CATEGORY: NASS
NASS 2020 Virtual Summer Conference Highlights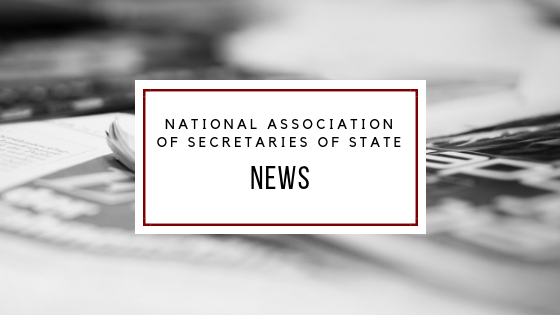 For Immediate Release — July 27, 2020 — Washington, D.C. — The National Association of Secretaries of State (NASS) held a Virtual Summer Con­ference July 17 and July 20-22, 2020. 39 Secretaries of State and Lieutenant Governors, along with over 400 senior state government staff, Congressional staff, as well as federal agency, nonprofit and private sec­tor representatives attended the online sessions. Bipartisan conference discussions addressed cybersecuri­ty, election administration, remote online notarization and more.

NASS leadership for 2020-2021 was also sworn in. New Mexico Secretary of State Maggie Toulouse Oliver was inducted as President, along with a full slate of new Executive Board members. Click here for the July 22 release on leadership updates.

Conference Highlights

Conference Sessions: Many open sessions of the conference were recorded and have been posted to the NASS conference page, including:

*Business Meeting & Introduction of 2020-2021 Leadership

*Business Services Committee

*Cybersecurity Committee & Workshop

*Elections Committee

*Workshop - Election Security Information Sharing – What's New in 2020

*Workshop - Preparing for Increased Voter Turnout in November 2020

*Workshop - Remote Online & Paper Notarization - Stakeholders, State Laws and State Executive Orders

The full conference agenda is available here, which includes a complete list of speakers and organizations.
National Awards:

During the conference, the Office of the California Secretary of State was selected to receive the 2020 NASS IDEAS Award for VoteSure: A Public Education Campaign Encouraging Voters to be Vigilant of Election Misinformation. The program was developed to counteract election misinformation, provide public education resources and strengthen voter confidence.

Secretary of State offices in Georgia, New Hampshire and Tennessee were also recognized for their fi­nalist submissions. Click here to read the July 23 IDEAS Award release.

Also, the 2020 Margaret Chase Smith American Democracy Award for political courage recipient was an­nounced. Nominated by Alabama Secretary of State John Merrill, this year's honoree is Mr. Bryan Steven­son; for his efforts as a public interest lawyer who has dedicated his career to helping the poor, incarcer­ated, and wrongly convicted. Mr. Stevenson is also the founder and Executive Director of the Equal Justice Initiative, a human rights organization in Montgomery, Alabama. The award will be presented at the NASS 2021 Winter Conference in Washington, D.C.

Resolutions: The following NASS policy resolutions were approved by member vote on July 22 during the NASS Business Meeting:

*NASS Resolution on the Collection of Ownership Information in the Company Formation Process

*NASS Resolution Affirming the Role of the Secretary of State or Other State Notary Commissioning En­tity as Sole Authority to Establish Standards for New Forms of Notarization

*NASS Resolution Supporting U.S. – Taiwan Bilateral Trade and Investment

Additionally, the NASS Elections Committee during their July 21 meeting allowed the following NASS reso­lutions to expire:

*NASS Resolution Supporting International Election Observers Where Allowed by State Law and NASS Protocol for International Observers

*Resolution Reaffirming the NASS Position on Funding and Authorization of the U.S. Election Assis­tance Commission

*NASS Resolution Urging the Measured Utilization of Available Technology and Best Practices in the Security and Conduct of Elections Embracing the Participation of Military & Overseas (UOCAVA) Voters

Corporate Affiliate White Papers: Each year, NASS corporate affiliates submit white papers on relevant issues. This summer's submissions include:

*Clear Ballot: Scaling Central Count Tabulation in Response to COVID-19

*CT Corporation: The Six Steps of Business License Compliance

*Ingalls Information Security: How To Respond When You've Been Breached: 15 Critical Steps Your Organization Must Take

*Runbeck Election Services: Applying Innovative Software to Petition Processing

*Tecuity: Making Information Accessible

*Verizon: Protect Electronic Voting Against Cyberthreats: Help Reduce Risk With Best Practices for Network Security

*Voatz: Standardization of Remote Ballot Marking & Return Through a Rigorous National Study & Ex­amination

# # #
Media Contact:
Maria (Dill) Benson, Director of Communications
mbenson@sso.org | 202-624-3528 | www.nass.org