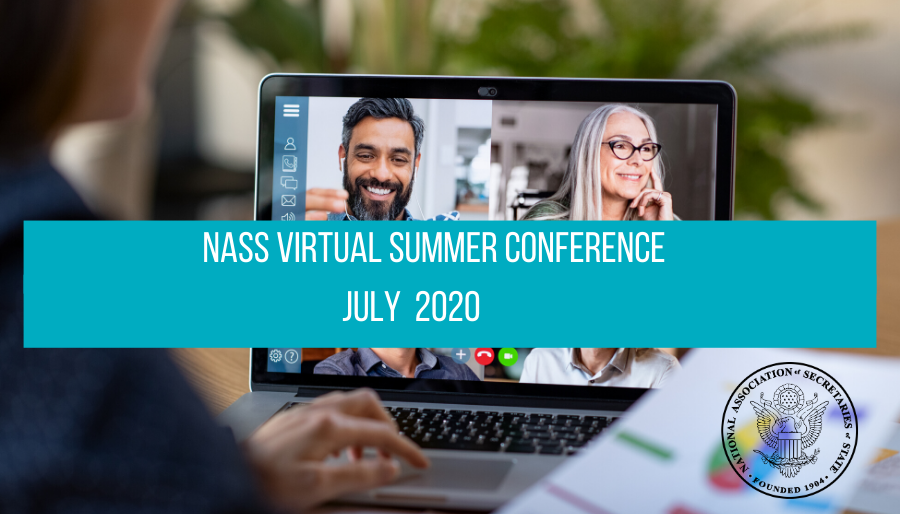 When:
Jul 17 - Jul 22
Where:
Online
Facility:
After careful consideration and discussion with the NASS Executive Board, the decision was made to cancel the 2020 NASS Summer Conference that was scheduled to take place from July 19-22, 2020 at the Silver Legacy in Reno, Nevada. In lieu of an in-person conference, NASS will host a Virtual Summer Conference, July 17th and July 20-22. Mark your calendar to join us online in July!
 
Registration:
The registration fee is $50 per person for all registration types except corporate non-member. Registration will close on July 14th at 8 PM EDT.  Login information for conference sessions will begin to be distributed on Wednesday, July 15th to the email address provided at registration.

Press/Media Registration (free): There are 25 individual media slots, which will be given on a first-come-first-serve basis. Registered reporters will be granted media access to open sessions of the conference. To register for ONE of the 25 first-come-first-serve media slots, please email Maria Benson, NASS Director of Communications, at mbenson@sso.org. There is a TWO reporter per outlet maximum and registration is non-transferable. In the interest of fairness, reporters may not email on behalf of their colleagues to reserve a slot for them.
Event Agenda:
Agenda is subject to change. Committee meetings are open to all attendees, unless otherwise noted. All times listed are Eastern Daylight Time (EDT). Committee meetings and workshops will be recorded. ACR agenda available here.
IDEAS: Innovations & Solutions from the States

2020 IDEAS Award Finalists
CLOSED SESSION - Secretaries-Only Session
CLOSED SESSION - SOS Staff-Only Session
CLOSED SESSION - Communications Staff Roundtable
CIS Social Media Reporting Tool Prototype Demonstration and Beta Update
Mr. Aaron Wilson, Sr. Director of Election Security, Center for Internet Security

Communicating Business Services COVID-19-related Changes to the Community and Stakeholders Overview 
Mr. Tim Crowley, Communications Director, North Carolina Secretary of State 

Ohio Presidential Preference Primary Election Communications and Voter Education Strategy 
Mr. Grant Shaffer, Director of External Affairs and Deputy Assistant Secretary of State, Ohio Secretary of State 

Secretary of State Communications Staff Open Discussion
Business Services Committee
Co-Chairs: Hon. Denise Merrill, CT & Hon. Frank LaRose, OH
Workshop: Remote Online & Paper Notarization - Stakeholders, State Laws and State Executive Orders
Overview of State Laws and Executive Orders
Ms. Leslie Reynolds, Executive Director, NASS

Model Emergency Executive Order on Notarization
Mr. Kobie Pruitt, JD, AMP, Associate Director, State Government Affairs, Mortgage Bankers Association
Ms. Elizabeth Blosser, Senior Director of Government Affairs, American Land Title Association

MISMO Certification of Remote Notarization Vendors
Mr. Jonathan Kearns, Vice President of MISMO and Associate VP of Product Development, Research & Industry Technology Standards, Mortgage Bankers Association
Cybersecurity Committee & Workshop
Co-Chairs: Hon. Paul Pate, IA & Hon. Jim Condos, VT
A Report from the Field: Data on Cyber Risks and Vulnerabilities
Mr. Matt Masterson, Senior Advisor on Election Security, CISA

Ohio Shared Practices: Suspicious Activity Reporting
Mr. Spencer Wood, Chief Information Officer, Ohio Secretary of State

Vermont Shared Practices: Securing Your Remote User Sessions
Mr. John Welch, IT Director, Vermont Secretary of State

West Virginia Shared Practices: Protecting an Expanding Digital Footprint
Mr. Dave Tackett, Chief Information Officer, West Virginia Secretary of State
Workshop - Preparing for Increased Voter Turnout in November 2020
Innovative Poll Worker Recruitment Strategies and Identifying New Polling Places
Hon. Robert Evnen, Secretary of State, Nebraska
Workshop – Election Security Information Sharing – What's New in 2020
Dr. Julia Nesheiwat, Deputy Assistant to the President, Homeland Security and Resilience, National Security Council

Mr. Geoff Hale, Director, Election Security Initiative, CISA, National Risk Management Center

Mr. Brian Hancock, Chair, Election Infrastructure Subsector Coordinating Council (EISCC)

Mr. Ben Hovland, Chairman, US Election Assistance Commission
CLOSED SESSION - SOS Staff-Only Session
CLOSED SESSION - Secretaries-Only Session
Business Meeting & Induction of 2020-2021 Leadership
Members will vote on business items adopted by NASS committees.