CATEGORY: NASS
NASS 2019 Summer Conference Highlights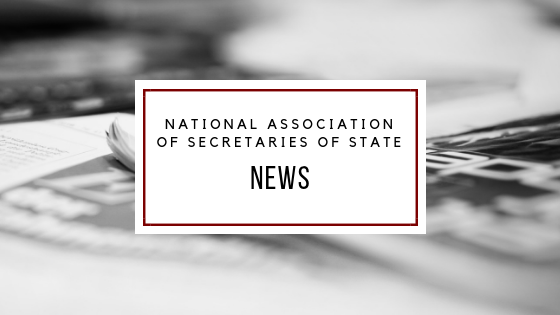 For Immediate Release — July 12, 2019 —
Washington, D.C. — 36 Secretaries of State, one Lt. Governor and senior state staff members repre­senting 42 states met in Santa Fe, New Mexico for the 102nd annual summer meeting of the National Association of Secretaries of State (NASS), held June 30 through July 3. Many productive sessions and discussions took place on critical issues including election administration, cybersecurity, federal legislation, business services and much more.

NASS leadership for 2019-2020 was also sworn-in. Iowa Secretary of State Paul Pate was inducted as President, along with a full slate of new leadership positions. Click here for the July 8 release on lead­ership updates.

Workshops/Speakers: The U.S. Department of Homeland Security (DHS) "Countering Foreign Influ­ence, Incident Response and DHS Services for 2020" session featured Cybersecurity and Infrastruc­ture Security Agency (CISA) Senior Cybersecurity Advisor Matt Masterson and Election Security Initia­tive Director Geoff Hale. Masterson and Hale discussed CISA's support to state and local governments and efforts to counter foreign interference. CISA is working with all 50 states and more than 1,800 local governments to protect the 2020 elections. The DHS officials highlighted an array of free voluntary ser­vices available to states, released an updated Election Infrastructure Security Resource Guide, and discussed the department's efforts to educate the public about foreign interference operations. During the session, West Virginia Secretary of State Mac Warner also shared a presentation he developed on helping citizens understand misinformation and disinformation.

Other public and private sector speakers, included: Defending Digital Democracy Project, National Conference of State Legislatures, Center for Civic Policy, Native American Voting Rights Coalition, Na­tional Science Foundation's Scholarship for Service Program Office, U.S. General Services Admin­istration, National Institute for Civil Discourse, Brennan Center, TurboVote, U.S. Department of Justice, Center for Technology and Civic Life, and many others.

The full conference agenda is available here, which includes presentations and a complete list of speakers and organizations.

National Awards: During a special awards ceremony held July 2, the Office of the Iowa Secretary of State was selected to receive the 2019 NASS IDEAS Award, which recognizes innovation and excel­lence in state programming. Iowa was recognized for its Partnerships Pay Dividends: A Roadmap to Election Security.

Secretary of State offices in North Carolina and Rhode Island were also recognized for their national finalist submissions. These programs were reviewed and voted on by members. Read the July 9 re­lease here.

Finally, the 2019 Margaret Chase Smith American Democracy Award for political courage was an­nounced at the Business Meeting. This year's honoree is Ms. Viola Gregg Liuzzo. Killed by the Ku Klux Klan in March 1965, she gave her life fighting for African-Americans' voting rights during the civil rights movement. The award will be presented to her family at the NASS 2020 Winter Conference in Wash­ington, D.C.

Resolutions: The following NASS policy resolutions were approved by member vote on July 3, 2019:

*NASS Resolution on Establishing the Fourth Tuesday of September as National Voter Registration Day
*NASS Resolution on Help America Vote Act of 2002 (HAVA) Grant and Payment Distinction
*NASS Resolution on Voting Information for Military and Overseas Citizens on the Web
*NASS Voting Rights Resolution
*NASS Resolution in Support of State Securities Regulation
*NASS Resolution of 100th Anniversary of NASAA

Corporate Affiliate White Papers: Each year, NASS corporate affiliates submit white papers show­casing their capabilities. This summer's submissions include:
*Bandura Cyber: Threat Intelligence Sharing and Election Security
*Cyber Defenses: Policies that Strengthen Election Security
*Election Systems & Software: Barcodes in the Election Industry
*Hart InterCivic: Secure Voting Equipment Disposal
*Northwest Registered Agent: Improving Corporate Record Inspection Practices
*Runbeck Election Services: Producing Election Materials Sustainably
*Smartmatic: Voting Security and Election Integrity
*VOTEC: Trust is Our Most Important Product

Announcements: The NASS 2020 Summer Conference will be held in Reno, Nevada July 19-22.
In addition, the NASS 2021 Summer Conference will be held in Des Moines, Iowa.
# # #
Media Contact:
Maria (Dill) Benson, Director of Communications
mbenson@sso.org | 202-624-3528 | www.nass.org