CATEGORY: NASS
NASS Inducts Iowa Secretary of State Paul Pate as President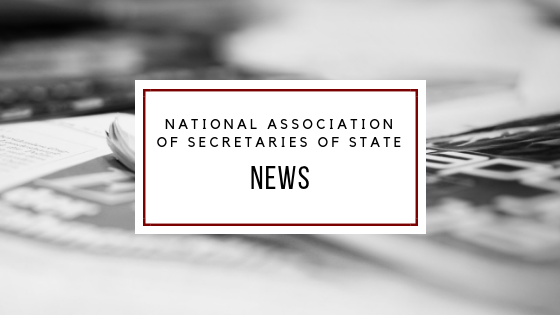 For Immediate Release — July 8, 2019 —
Washington, D.C. — The National Association of Secretaries of State (NASS) has inducted Io­wa Secretary of State Paul Pate as president of the association, the nation's oldest nonpartisan professional organization for state officials. He will serve a one year-term ending July 2020.

"It is a tremendous honor to lead this bipartisan group of state election officials as we enter the 2020 election cycle. I'm thankful for their trust in me as we work together to share best practices and ensure clean and fair elections across the country," said Pate, who was sworn into office Wednesday, July 3, at the NASS 2019 Summer Conference in Santa Fe, New Mexico.

Pate has been an active member of NASS and a founding member of the Election Infrastructure Subsector Government Coordinating Council (EIS-GCC). He has served as Iowa's Secretary of State since January 2015 and also previously held the office from 1995-1999. Pate is only the second Iowa official to lead NASS as president since its founding in 1904. Melvin D. Synhorst (1960-1961) was the first Iowan to hold the post of president.

Also elected at the annual NASS meeting were the following Executive Board members:
President: Hon. Paul Pate, Iowa
Immediate Past President: Hon. Jim Condos, Vermont
President-elect: Hon. Maggie Toulouse Oliver, New Mexico
Treasurer: Hon. R. Kyle Ardoin, Louisiana
Secretary: Hon. William Gardner, New Hampshire

Eastern Region Vice-President: Hon Matt Dunlap, Maine
Southern Region Vice-President: Hon. Tre Hargett, Tennessee
Midwestern Region Vice-President: Hon. Steve Simon, Minnesota
Western Region Vice-President: Hon. Barbara Cegavske, Nevada
Member-at-Large (NPA Section): Hon. Connie Lawson, Indiana
Member-at-Large (ACR Section): Hon. Jay Ashcroft, Missouri
National officers will serve a one-year term, ending in July 2020.
# # #
Media Contact:
Maria (Dill) Benson, Director of Communications
mbenson@sso.org | 202-624-3528 | www.nass.org