CATEGORY: NASS
NASS 2021 Summer Conference Highlights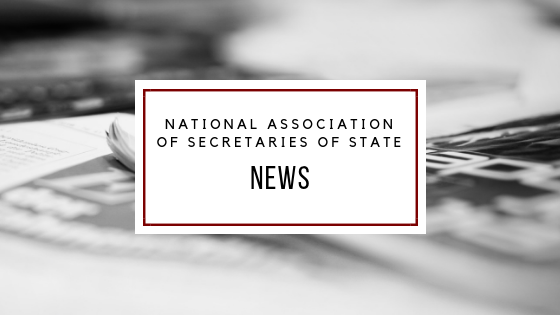 For Release — Aug. 30, 2021 — Washington, D.C. — Secretaries of State and senior staff members from 36 states met for the 104th annual summer meeting of the National Association of Secretaries of State (NASS), held Aug. 13-16. The conference was held in Des Moines, Iowa, with several sessions also available virtually. Many productive discussions took place on critical issues including election administration, cybersecurity, legislation, business services and much more.
NASS leadership for 2021-2022 was also inducted. On Aug. 16, the Louisiana Secretary of State Kyle Ardoin was sworn in as President, along with the new Executive Board. View the release here.
Conference Highlights
Recorded Conference Sessions – Certain open sessions of the conference were recorded and have been posted to the NASS conference page:
*International Relations Committee
*Workshop - Implementation of VVSG and Discussion of Post-Election Audits
*Workshop - State Civic Education/Civic Engagement Shared Practices
*Workshop - Voting Processes for Emergency Responders
The full conference agenda is available here, which includes speakers, presentations, and organizations.
National Awards:
During the Aug. 15 luncheon, the Office of the Michigan Secretary of State received the 2021 NASS IDEAS Award, which recognizes innovation and excellence in state programming for their Democracy is a Team Sport: Forging Active Partnerships Between Election Officials and Major League Sports. View the release here.
On Aug. 16, NASS announced it will posthumously award the 2021 Margaret Chase Smith American Democracy Award for political courage to Hon. Jennings Randolph for championing the passage of the 26th Amendment to the U.S. Constitution, which lowered the required age to register to vote from 21 to 18. Randolph was nominated by the Office of the West Virginia Secretary of State. There will be a ceremony acknowledging the award recipient at NASS 2022 Winter Conference in Washington, D.C.
Resolution: The following NASS policy resolution was approved by member vote Aug. 16:

*NASS Endorsement of Notary Public Administrators' Resolution to Implement a Series of Best Practices Designed to Achieve Uniformity in Apostilles
Report: The following report was accepted by the membership on Aug. 16:
*NASS Task Force on Vote Verification Post-election Audits Recommendations Report
Corporate Affiliate White Papers: Each year, NASS corporate affiliates submit white papers showcasing their expertise. This summer's submissions are:
*Civix: Improving Technology Tools for Voters with Disabilities
*CT Corporation: Series LLC States Clarify the Filing of UCC-1 Financing Statements by Secured Creditors of a Series
*Dominion Voting Systems: Defending Against Election Disinformation
*Fort Orange Press: The Future of Voting by Mail: Tracking and Reporting
*HART InterCivic: 3 Pillars of Voter Confidence
*Hyland Software, Inc.: Blockchain-Secured Electronic Apostilles
*Ingalls Information Security, LLC: 2021 Cybersecurity Zero-Day Gamechangers: SolarWinds, ProxyLogon, & Kaseya Breaches
*Notarize, Inc.: Remote Online Notarization: A Modern Approach to Security & Fraud Prevention
*Vidaloop: End-to-End Verifiable Voting
*Vista SG: Preserving the Integrity of Elections Data
*Voatz: Ensuring Trustworthy Voting for Military and Overseas Voters
Announcements: The NASS 2022 Winter Conference is set to take place Jan. 27-30 in Washington, D.C.