CATEGORY: NASS
NASS Emphasizes Importance of Election Integrity and Highlights New FAQ Document for Voters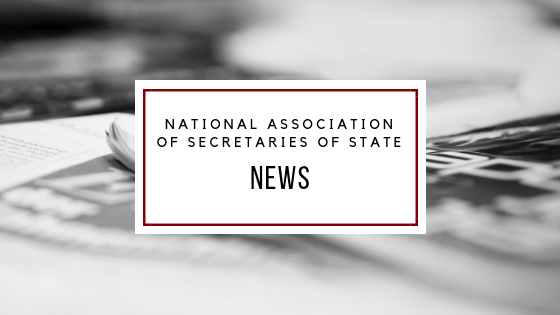 For Immediate Release — Sept. 29, 2020 — Washington, D.C. — The 40 members of the National Association of Secretaries of State (NASS) who serve as their state's chief election official, would like to assure voters the voting process is fair­ly administered, with security measures and structural safeguards in place to ensure accurate elec­tion results.

To help Americans as they prepare to vote, NASS has published a new 2020 Election Fre­quently Asked Questions (FAQs) document. The FAQs cover a range of topics including: how to register to vote, voting by mail processes and procedures, in-person voting, election results, how to become a poll worker and more. Find them here.

"As Secretaries of State, we take our role as guardians of democracy seriously. We want voters to have confidence in the integrity of our election process," said Maggie Toulouse Oliver, NASS Presi­dent and New Mexico Secretary of State. "Elections are administered differently around the country, and it is important for voters to get correct information relevant to their state. NASS's new FAQs will provide voters with a general overview of specific questions, but will also provide a link to find state-specific information. Voters should have no doubt their votes, whether cast in-person, by mail, drop box or delivered to their election office, will determine the outcome of the election this November."

"My colleagues and I are working diligently within each of our states' laws to ensure fair, accurate and safe elections, and to educate voters about any changes that might be in place this year," said R. Kyle Ardoin, NASS President-elect and Louisiana Secretary of State. "We encourage voters to reach out directly to state and local election officials to find answers to their specific questions. By coming to us for answers, we can make sure our voters have accurate election information from a trusted source."

Beyond these helpful FAQs, it is important voters look to their election officials for state-specific an­swers. You can find an election official directory, as well as voter registration, absentee/early voting, polling place locator, and more on canivote.org a nonpartisan website created by state election offi­cials. Also, learn about NASS's #TrustedInfo2020 effort to highlight state and local election officials as trusted sources of election information.

For more NASS 2020 election-related material, please visit our COVID-19 issue brief, resources and securing elections pages.
# # #
Media Contact:
Maria Benson, Director of Communications
mbenson@sso.org | 202-624-3528 | www.nass.org