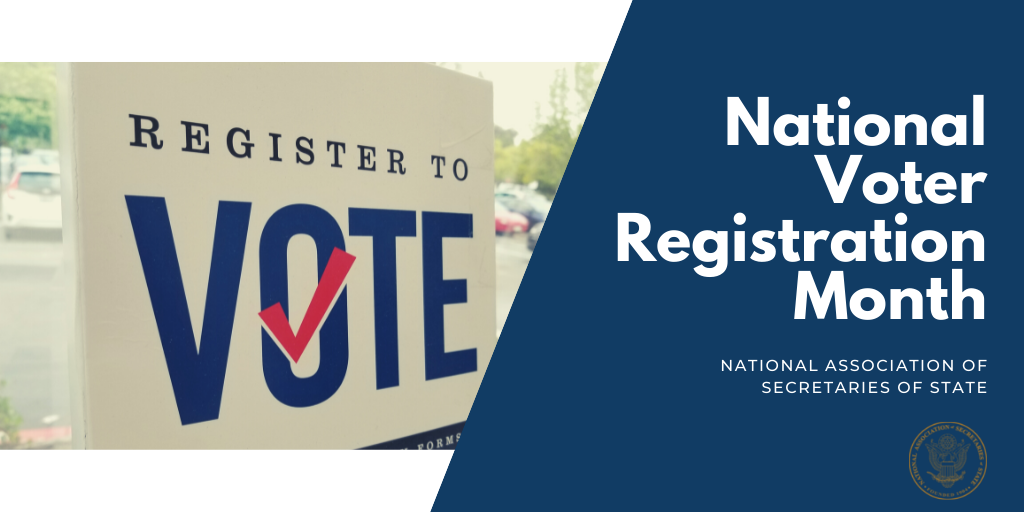 In 2002, Secretaries of State established September as National Voter Registration Month to encourage voter participation and increase awareness of state requirements and deadlines for voting. 

Register to Vote

Not sure if you are registered to vote? Have you recently moved, changed your name or had your voting rights restored? Get help using our non-partisan voting assistance website, CanIVote.org. 
If you are not sure which state applies to your living situation, contact local election officials for help with registering to vote. You can also visit the U.S. Election Assistance Commission website to download a federal mail-in voter registration application, which is also available for voter registration activities.

Led by a coalition of voter advocacy and nonprofit groups, National Voter Registration Day is taking place on Sept. 28, 2021. This initiative has the support of NASS and its members.  
Frequently Asked Questions: Voter Registration Information as Public Record 
Who can access voter registration data?
Voter registration information is generally designated public record under law. States have dealt with disclosure and conditions for use in a variety of ways, usually balancing open records access requirements with privacy protections for information such as Social Security numbers and birthdates. The majority of states make their voter data lists available to political parties, campaigns, academic institutions and other third parties for non-commercial use. Some states do not have specific restrictions on data use. Access or attempted access to information that is exempt from public disclosure is subject to criminal prosecution or civil liability.
What data is kept in a voter registration list?
The information collected on a voter application form varies by state. All states collect certain identifying information such as name, address, date of birth, and identification number (e.g. driver's license, state ID, or last four digits of Social Security). Some states also collect additional information such as political party affiliation, phone number, email address, and voting history (elections you have voted in, not who you voted for). Most voter registration applications are submitted to local election offices, which process and enter the information into a statewide voter registration database maintained by the Secretary of State or state election board. 
How can voter registration data be obtained from the state?
In most states, voter registration data is made available for purchase from the Secretary of State or local election offices. The cost of purchasing the data can vary significantly across states, and often depends on the amount and type of date requested (e.g. county, congressional district, statewide, etcetera). In addition to voter registration data, many states make additional information contained in voter registration records available for purchase or release, including information on voter history from past elections and voting methods used. Also, during early or absentee voting periods for an upcoming election, some states allow individuals to purchase data on the early or absentee voting activity of registered voters.
What should voters do if they are concerned about their voter registration information?
While states are doing everything they can to keep their voter registration databases secured, data that is legally provided to third parties can enter the public domain as a result of public records requests. Many states have dealt with public complaints about deceptive voter registration mailings that appear to be sent from a state or local election office. In some cases, these letters have been sent to individuals who are already registered or are ineligible to vote, causing confusion. In other cases, mailings show someone's voting history in an apparent effort to "shame" them into voting. Despite clear public frustration over these mailings (and more broadly, voter list disclosures), they may not be in violation of any laws. State and local election officials can explain what information is made public, and what information is kept confidential, under the law.
Visit CanIVote.org for additional state-by-state information on voter registration.
 ###