CATEGORY: NASS
NASS 2020 Winter Conference Highlights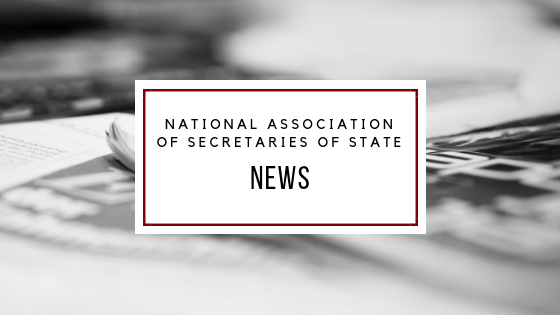 For Immediate Release — Feb. 4, 2020 — Washington, D.C. — The National Association of Secretaries of State (NASS) held its 2020 Winter Confer­ence Jan. 30 – Feb. 2 in Washington, D.C. 40 Secretaries of State and Lieutenant Governors were joined by an audience of over 320 people including senior state government and Congressional staff, as well as nonprofit and private sector representatives. Bipartisan discussions throughout the meeting addressed cy­bersecurity, election administration, business identity theft, federal legislation and other relevant topics.
Highlights from the conference include the following:
Clint Watts Keynote Remarks - Clint Watts, Senior Fellow at the Center For Cyber and Homeland Securi­ty, George Washington University, delivered the conference's keynote speech on Friday, Jan. 31 regarding election security, specifically threat actor behavior and countermeasures for disrupting and defeating state and non-state actors. C-SPAN covered the speech and it can be viewed here.
#TrustedInfo2020 Breakfast - To encourage engagement on NASS's #TrustedInfo2020 initiative, Democ­racy Fund sponsored a breakfast themed around the effort on Friday, Jan. 31. The interactive breakfast emphasized the importance of looking to election officials as the trusted sources for election information.
Margaret Chase Smith Award - Nominated by Michigan Secretary of State Jocelyn Benson, the 2019 Margaret Chase Smith award for political courage was given posthumously to Viola Gregg Liuzzo. The award was accepted by her daughter Mary Liuzzo Lilleboe. Read the release on the Saturday, Feb. 1, award ceremony here.
IDEAS Award Finalists – The following member offices were announced as national finalists for the NASS 2020 IDEAS Award competition, recognizing innovation and excellence in state programming. See all sub­missions:
*California - VoteSure: A Public Education Campaign Encouraging Voters to be Vigilant of Election Mis­information
*Georgia - She Leads GA: Women's Financial Empowerment
*New Hampshire - Amazon Alexa Interface for State of New Hampshire Elections
*Tennessee - Patriot Paths, Tennessee's Revolutionary War Veterans
All finalists will be invited to showcase their programs at the NASS 2020 Summer Conference in Reno, Ne­vada, where the recipient will be announced and recognized.
Resolutions - The following were approved at the Business Meeting on Feb. 2, 2020:
*NASS Resolution on Support of .GOV Use by SLTT Governments
*NASS Resolution Affirming the Conduct of Elections in a Nonpartisan Manner
*NASS Resolution Establishing September as National Voter Registration Month
*NASS Resolution Urging Political Parties to Boost Participation by Military & Overseas Voters in the Presidential Selection Process
Corporate Affiliate White Papers - Each year, NASS corporate affiliates submit white papers showcasing their expertise:
Workshops/Speakers - Conference speakers represented a diverse array of entities, including: the Atlan­tic Council, Center for Democracy & Technology, Elections Infrastructure Information Sharing and Analysis Center, Facebook, Google, International Trademark Association, Twitter, National Archives Foundation, National Disability Rights Network, The Selma Center for Nonviolence, U.S. Department of Homeland Se­curity, U.S. Election Assistance Commission, Verified Voting and many more.
Announcements - The NASS Summer Conference locations for 2020-2023 are as follows:
*2020 Reno, Nevada
*2021 Des Moines, Iowa
*2022 Baton Rouge, Louisiana
*2023 Kansas City, Missouri (hosted jointly by Missouri and Kansas Secretaries of State)
Photos of the conference can be found on our Facebook and Twitter pages.
# # #
Media Contact:
Maria (Dill) Benson, Director of Communications
mbenson@sso.org | 202-624-3528 | www.nass.org