CATEGORY: NASS
NASS Announces Native American Voting Rights Advocate as Margaret Chase Smith Award Recipient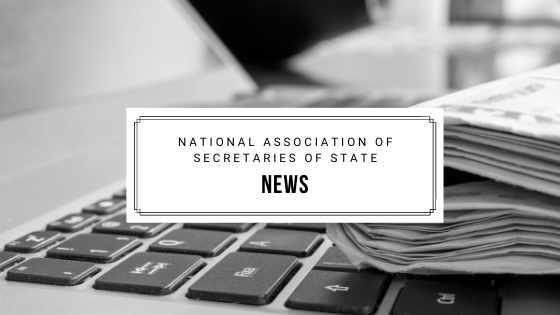 For Immediate Release – Feb. 17, 2023 – Washington, D.C. – The National Association of Secretaries of State (NASS) has presented the 2022 Margaret Chase Smith American Democracy Award for political courage posthumously to Mr. Miguel H. Trujillo for championing Native American voting rights. The award was accepted by Mr. Trujillo's granddaughter, Ms. Patricia Abeita, in a ceremony held on Feb. 16, during the NASS 2023 Winter Conference.

Over 70 years ago, Trujillo initiated a court challenge to a provision in New Mexico's constitution which barred Native Americans from voting. In 1948, a District Court sided with him by deciding it was unconstitutional. This important action expanded voting rights to all Native Americans in New Mexico.

"As a World War II veteran, educator and Isleta Pueblo tribal member, Miguel Trujillo lived a life of service and purpose. His work to expand voting rights to New Mexico's Native American pop­ulation was a significant contribution to our democracy. NASS and our members admire his ef­forts, and it is our tremendous privilege to bestow our highest honor on him," said NASS Presi­dent and New Jersey Secretary of State Tahesha Way.

Trujillo was nominated by New Mexico Secretary of State Maggie Toulouse Oliver.

"Miguel Trujillo's selfless efforts to expand the franchise are a high mark in the fight for voting rights in the United States," said Toulouse Oliver. "Though less known than other civil rights pio­neers, the consequences of Mr. Trujillo's actions have had an enormous impact on expanding the most fundamental of our civil rights. The legacy of Miguel Trujillo is one of dignity, sacrifice, and unwavering dedication to furthering the civil rights of Native Americans and I'm proud to see him recognized as the recipient of the 2022 Margaret Chase Smith American Democracy Award."

View more information on the Margaret Chase Smith Democracy Award here.
# # #
Media Contact:
Maria Benson, Director of Communications
mbenson@sso.org | 202-624-3528 | www.nass.org