CATEGORY: NASS
Get #ReadytoVote17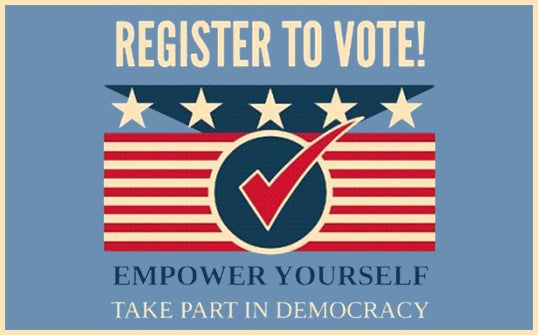 For Immediate Release
September 1, 2017
WASHINGTON, DC - The National Association of Secretaries of State (NASS) is reminding eligible voters that September 2017 is National Voter Registration Month. State and local election offices around the nation are offering resources and events to promote the tools and rules for getting ready to vote.
"Now is the time to make sure that you are signed up and your registration information is up-to-date," noted NASS President and Indiana Secretary of State Connie Lawson. "Make sure that checking on your voter registration is part of your back-to-work or back-to-school routine."
The nation's Secretaries of State established September as National Voter Registration Month in 2002 to encourage voter participation and increase awareness of state requirements and deadlines for voting.
Eligible citizens who are 18 years of age or older may sign up. Every state except North Dakota has a registration requirement for voting.
As part of the voting celebration in September, NASS members will also take part in promoting National Voter Registration Day on Tuesday, September 26.
According to the U.S. Census Bureau, roughly 66 million eligible Americans are not yet registered to vote!
Help NASS spread the wordabout National Voter Registration Month by using the hashtag #ReadytoVote.

Top Voter Registration Questions:
Am I registered to vote? Most states let you check your registration status online. You can find out how to contact your local election office at www.CanIVote.org.
How do I register to vote? In 34 states plus the District of Columbia, you can register to vote online. Find out more about how to register to vote in your state at www.CanIVote.org.
How do I update my voter registration info? Updating voter registration information is critical for people who have recently moved, changed their name or had their voting rights restored.Get help at www.CanIVote.org.
When is the deadline to register? Some states allow registration on Election Day itself, but the majority of states have a voter registration deadline that falls in early October. Know the important election dates and deadlines where you live.
ABOUT NASS
Founded in 1904, NASS is the oldest, nonpartisan professional organization of public officials in the U.S. Membership is open to the 50 states and all U.S. territories. NASS serves as a medium for the exchange of information between states and fosters cooperation in the development of public policy.
The NASS Elections Committee is co-chaired by Louisiana Secretary of State Tom Schedlerand New Mexico Secretary of State Maggie Toulouse Oliver. The committee is dedicated to educating and informing members about state election administration practices and laws, as well as tracking proposed federal legislation and the activities of other federal government entities.
The NASS Voter Participation Committee is co-chaired by Kentucky Secretary of State Alison Grimes and Oregon Secretary of State Dennis Richardson. The committee is devoted to identifying state strategies for increasing or enhancing practices on voter education and outreach, as well as serving as a clearinghouse for information on voter participation and civics outreach programs.

MEDIA CONTACT: Stephen N. Reed | Director of Communications | 202.624.3528 | sreed@sso.org