CATEGORY: NASS
NASS Thanks All Who Helped Promote #TrustedInfo2020 Election Initiative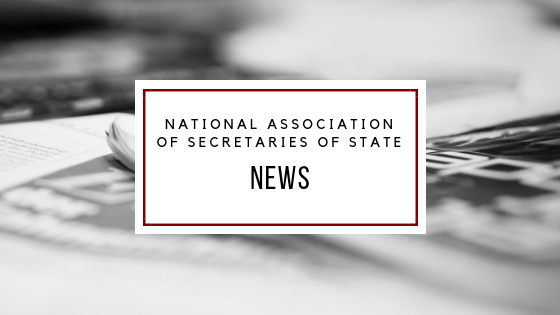 For Immediate Release — Dec. 30, 2020 — Washington, D.C. — At the beginning of the 2020 Election cycle, the National Association of Sec­retaries of State (NASS) launched an initiative called #TrustedInfo2020. The campaign's goal was to amplify the voices of Secretaries of State, 40 of whom serve as their state's chief election offi­cial, along with other state and local election officials, as they worked continuously to inform Amer­icans about the elections process.
#TrustedInfo2020 encouraged American citizens to look to their state and local election offi­­cials as the trusted sources for election information.
"The #TrustedInfo2020 campaign made every effort to ensure that voters could easily participate in the 2020 Election. When we launched the campaign, we could never have imagined that COVID-19 would make promoting trusted sources of information even more essential," said Maggie Tou­louse Oliver, NASS President and New Mexico Secretary of State. "No matter the circumstances, our job is to be the trusted source for election information. I am looking forward to what comes next from NASS in promoting trust in elections and in the work of Secretaries of State."
"This campaign, promoted by state and local election officials, as well as many partners, encour­aged American citizens to look to their state and local election officials for voting information. We want our voters to know who their election officials are and to ask them their voting questions. Elections for public office are held every single year throughout the United States," said Kyle Ar­doin, NASS President-Elect, and Louisiana Secretary of State. "We encourage voters to continue to look to election officials as the trusted and verified sources for election information in 2021, 2022, and beyond."
NASS was joined throughout the entirety of the campaign by many dedicated partners who aided in amplifying and strengthening this initiative. #TrustedInfo2020 partners helped NASS and its members reach millions of Americans during the 2020 Election. Our partners included:
Alliance for Securing Democracy
American Association of Political Consultants
Bipartisan Policy Center
Brennan Center for Justice
Campaign Legal Center
Center for Democracy & Technology
Center for Election Innovation & Research
Center for Technology and Civic Life
Council of State Archivists
Council of State Governments
Defending Digital Democracy Project
Democracy Fund
Democracy International
Election Center
Electronic Registration Information Center
Facebook
Federal Voting Assistance Program
Google
iCivics
International Association of Government Officials
Kids Voting USA
LeadingAge
MIT Election Data and Science Lab
NALEO Educational Fund
National Association of Attorneys General
National Association of Counties
National Association of State Election Directors
National Conference of State Legislatures
National Governors Association
Nonprofit VOTE
PEN America
The Carter Center
The MITRE Corporation
The National Vote at Home Institute
Twitter
U.S. Department of Homeland Security
U.S. Election Assistance Commission
U.S. Vote Foundation
Verified Voting
Women in Government
YMCA Youth in Government
For more information on the initiative visit our page.
# # #
NASS Media Contact:
Will Dinneen, Acting Press Secretary
wdinneen@sso.org | 202-624-3525 | www.nass.org