CATEGORY: NASS
Celebrating National Voter Registration Day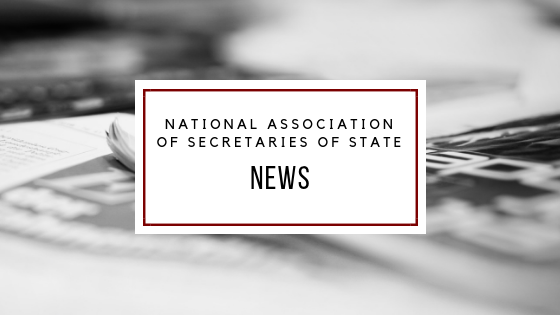 For Immediate Release — Sept. 22, 2020 — Washington, D.C. — The National Association of Secretaries of State (NASS) joins the elec­tions community today in celebrating the nonpartisan National Voter Registration Day effort.
"This year's National Voter Registration Day is truly unique with the ongoing COVID-19 pan­demic and a historic presidential election year. This makes it all the more important for Ameri­cans to take the time to get registered or check their voter registration status to ensure their information is correct." said NASS President Maggie Toulouse Oliver, New Mexico Secretary of State. "Also, voters should look to state and local election officials for accurate election in­formation."
NASS has a resolution in support of the holiday and is a "premier partner" organization.
Washington Secretary of State Kim Wyman and Minnesota Secretary of State Steve Simon pro­vide expert bipartisan representation on the National Voter Registration Day Steering Commit­tee.
"Voting is the foundation of our democracy and a responsibility of every American citizen," said Secretary Wyman. "Each year National Voter Registration Day reminds us of our duty to recog­nize and celebrate every citizen's role in shaping the future of our state, and our nation."
"As our country contends with the challenge of life during a pandemic, we know that our spirit of democracy is not diminished. National Voter Registration Day is a call to action, this year more than ever, to make every voice heard. Register today, and get ready, along with family, friends, and colleagues, to make your vote count in this historic election year," said Secretary Simon.
The hashtag #VoteReady will be used by National Voter Registration Day participants on social media.
To learn more about your state's specific voter registration requirements visit canivote.org, a nonpartisan website created by state election officials to help eligible Americans learn how and where to go vote. In addition, learn more about NASS's #TrustedInfo2020 effort to highlight state and local election officials as trusted sources of election information.
# # #
Media Contact:
Maria Benson, Director of Communications
mbenson@sso.org | 202-624-3528 | www.nass.org