CATEGORY: NASS
NASS Launches #TrustedInfo2020: A Public Election Education Initiative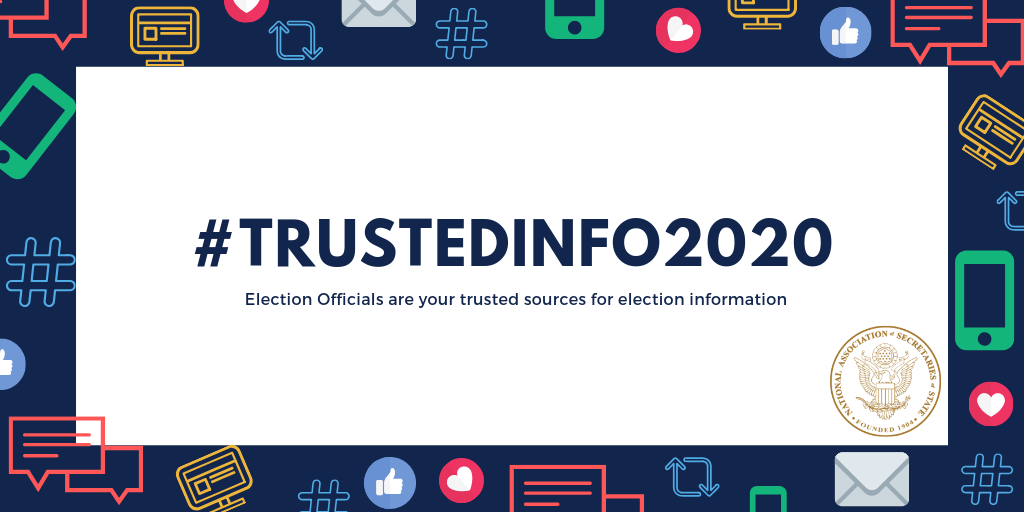 For Immediate Release — Nov. 12, 2019 —
Washington, D.C. — Today, the National Association of Secretaries of State (NASS) is launching a new initiative called #TrustedInfo2020. The nation's Secretaries of State, 40 of whom serve as their state's chief election official, along with other state and local election officials are continuously working to inform Americans about the elections process.

#TrustedInfo2020 encourages American citizens to look to their state and local election offi­cials as the trusted sources for election information. Driving voters directly to election officials' websites and verified social media pages will ensure voters are getting accurate election infor­mation, and cut down on the misinformation and disinformation that can surround elections.

"The best way we can combat potential foreign influence in the 2020 elections is to be united as Americans, and look to election officials for accurate election information," said Paul Pate, NASS President and Iowa Secretary of State. "By promoting #TrustedInfo2020 my colleagues and I are able to shine a bright light on the importance of getting election information directly from us—the trusted sources."

"Election officials are experts in their field. We are the go-to sources for correct and up-to-date in­formation for every election. We answer questions, solve problems, certify results, and protect the integrity of every election, among many other things. It's our job to be the trusted sources people use for election information and we're going to make sure that voters can easily and securely par­ticipate in the 2020 elections," said Maggie Toulouse Oliver, NASS President-elect and New Mexi­co Secretary of State. ​

NASS has also recruited several #TrustedInfo2020 partners to support and amplify the initiative, including:
*Brennan Center for Justice
*Campaign Legal Center
*Center for Democracy & Technology
*Center for Election Innovation & Research
*Center for Technology and Civic Life
*Council of State Archivists
*Council of State Governments
*Democracy Fund
*Election Center
*Electronic Registration Information Center
*Facebook
*Federal Voting Assistance Program
*Google
*iCivics
*Kids Voting USA
*MIT Election Data and Science Lab
*National Association of Attorneys General
*National Association of State Election Directors
*National Conference of State Legislatures
*National Governors Association
*Nonprofit VOTE
*Twitter
*U.S. Department of Homeland Security
*U.S. Election Assistance Commission
*U.S. Vote Foundation
*Verified Voting
*Women in Government
*YMCA Youth in Government

By partnering with the above organizations NASS and its members will be able to reach millions of Americans in order to get them the information they need to successfully participate in the 2020 elections.

#TrustedInfo2020 will run from Nov. 12, 2019 through Dec. 31, 2020. For more information on the initiative visit our page.
# # #
#TrustedInfo2020 image is attached for media use. Please give photo credit to the National Association of Secretaries of State.
Media Contact:
Maria (Dill) Benson, Director of Communications
mbenson@sso.org | 202-624-3528 | www.nass.org