CATEGORY: NASS
NASS Recognizes American Archives Month and Electronic Records Day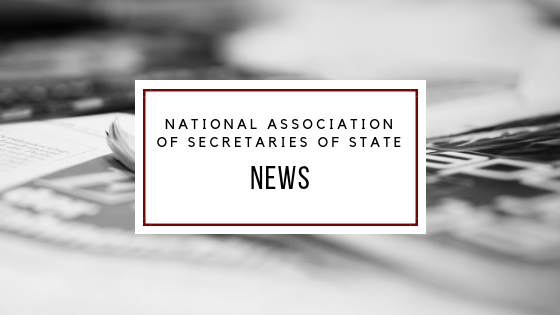 For Immediate Release — Oct. 10, 2019 —
Washington, D.C. — October is American Archives Month and the National Association of Secretaries of State (NASS) joins the 17 Secretaries of State responsible for their state ar­chives in celebrating. In addition, today, October 10, 2019, is Electronic Records Day. Cre­ated by the Council of State Archivists (CoSA) as part of their State Electronic Records Ini­tiative (SERI), it is designed to ensure the long-term management and accessibility of our nation's electronic records.

"American Archives Month and Electronic Records Day provides an excellent opportunity to appreciate the work of Secretaries and their staff to preserve and promote state history, records and artifacts," said NASS President Paul Pate, Iowa Secretary of State. "Secretaries have also worked with the National Archives Foundation to promote the 'Rightfully Hers' initiative to commemorate the centennial anniversary of the 19th Amend­ment. States have fascinating and unique stories to tell about their road to women's suf­frage, and archives are amazing tools to help citizens learn about these inspirational sto­ries."

The NASS State Heritage Committee, co-chaired by Arizona Secretary of State Katie Hobbs and Washington Secretary of State Kim Wyman, provides a regular forum for mem­bers to share practices and programs with one another. Subjects range from state ar­chives, museums, libraries and historical sites to state records.
# # #
Media Contact:
Maria (Dill) Benson, Director of Communications
mbenson@sso.org | 202-624-3528 | www.nass.org