CATEGORY: NASS
NASS Announces Former Washington State Governor and Secretary of State as Margaret Chase Smith Award Recipients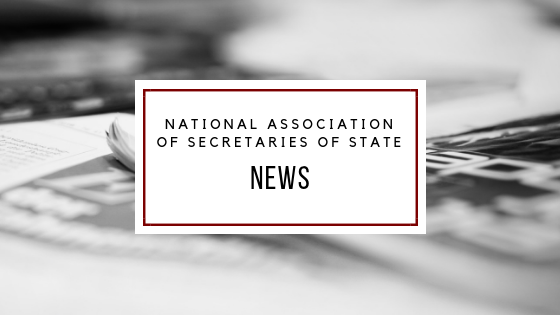 For Immediate Release — Feb. 4, 2019 —
Washington, D.C. — The National Association of Secretaries of State (NASS) has pre­sented the 2018 Margaret Chase Smith American Democracy Award for political courage to former Washington Governor Dan Evans (1965-1977) and former Washington Secretary of State Ralph Munro (1980-2000).
In April 1975, the Vietnam War ended, causing the immigration of 130,000 South Vietnam­ese to the United States. Unfortunately, during that time many states did not have the ca­pacity to help in resettlement efforts.
Upon hearing of a "tent city" of Vietnamese refugees in California, Evans sent his young intern Munro, who would later go on to be Washington Secretary of State, to survey the camp. After touring the camp, Munro told Evans they should welcome these people to Washington. The journey of relocation to Washington was helped along by community out­reach groups, churches and countless volunteers.
Evans also personally reached out to President Gerald Ford notifying him of Washington's efforts to resettle Vietnamese immigrants. Ford then created the Presidential Commission on Refugees and pushed through the Indochina Migration and Refugee Assistance Act of 1975.
"America is a nation of immigrants and our great state's leadership understood that," said current Washington Secretary of State Kim Wyman. "The resettlement of thousands of South Vietnamese refugees by Washington during a controversial period shows the kindness and generosity of not only our state, but also the importance of true public service. It is an incredible honor to have nominated for­mer Governor Evans and Secretary Munro for this prestigious award."

The ceremony took place during the NASS Winter Conference in Washington, D.C. on Sunday, February 3, 2019 (photo attached). Both men were present to receive the award. A complete list of past Margaret Chase Smith Democracy Award recipients can be viewed here.
# # #
Media Contact:
Maria (Dill) Benson, Director of Communications
mbenson@sso.org | 202-624-3528 | www.nass.org