CATEGORY: NASS
NASS Statement on S. 1889, Requiring Federal Recognition of State Address Confidentiality Programs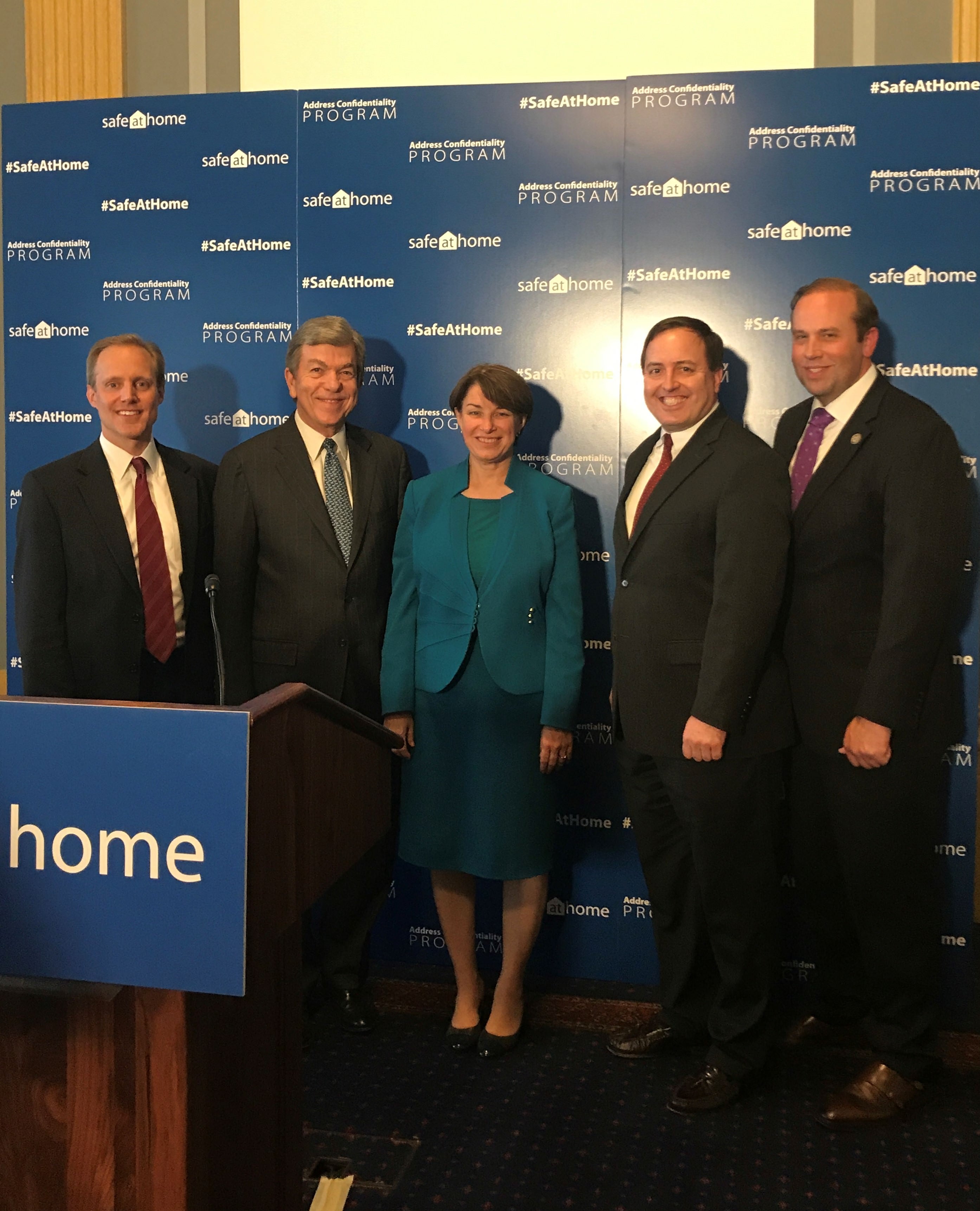 For Immediate Release
September 29, 2017
WASHINGTON, DC - On Thursday bipartisan federal legislation, the Safeguarding Ad­dresses from Emerging (SAFE) at Home Act, was introduced to support state-established address confidentiality protections for victims of domestic violence, sexual assault, rape, human trafficking and stalking. The legislation was introduced by U.S. Sen. Roy Blunt (Mo.) and U.S. Senator Amy Klobuchar (Minn.) in the Senate and Representa­tive Jason Smith (Mo.) in the House.
On July 10, 2017, the National Association of Secretaries of State (NASS) adopted a
resolution calling upon the federal government to recognize state address confidentiality programs, thereby strengthening protections for domestic violence victims. This was a bipartisan effort, led by Missouri Secretary of State Jay Ashcroft and Minnesota Secretary of State Steve Simon and was unanimously approved by the members of NASS.
Address Confidentiality Programs in 36 states were established to give victims a legal substitute address to use instead of their physical address and can be used whenever an address is required by public agencies. However, without a requirement that federal agencies follow the state address confidentiality programs and protections, many Ameri­cans in need of protection could be placed in harm's way. S.1889 will address this by re­quiring federal agencies and courts to abide by state address confidentiality programs.
"As President of the National Association of Secretaries of State, I support the changes put forward by the SAFE at Home Act 2017," said Indiana Secretary of State Connie Law­son. "NASS has previously called upon the federal government to recognize state ad­dress confidentiality programs. This legislation represents a significant shift in that direc­tion. This proposal will eliminate legal inconsistencies that force abuse victims to disclose their information to federal courts and risk discovery by their abusers, and offers protec­tion and privacy to those most in need of it."
"In this time of increasing partisanship, there are few issues anymore on which we can all agree," said Ashcroft. "Thankfully, for the survivors of domestic abuse, this is one of them. Hearing first-hand stories about how this program changed the lives of its partici­pants is truly humbling. I appreciate Secretary Simon's support, and the continuing sup­port of our Missouri delegation who are working hard to make this federal law a reality."
"For over a decade, Minnesota's Safe at Home program has been one of the strongest in the nation and has played a leading role in assisting other states develop address confi­dentiality programs," said Simon. "These programs offer critical life-saving services to so many women, men, children and families. The support and work being done by Sen. Klobuchar, Sen. Blunt and Secretary Ashcroft to ensure these protections are guaranteed at the federal level is not only necessary: it will save lives."
The SAFE at Home Act is co-sponsored by U.S. Senators Richard Blumenthal (Conn.), Shelley Moore Capito (W.Va.), John Cornyn (Texas), Maggie Hassan (N.H.), and Claire McCaskill (Mo.).
U.S. Representative Jason Smith (Mo.) introduced companion legislation in the House.
# # #
Media Contact:
Stephen N. Reed, NASS Communications Director
sreed@sso.org | 202-624-3528| www.nass.org