CATEGORY: NASS
Secretaries of State Celebrate 15th National Voter Registration Day on Sept. 26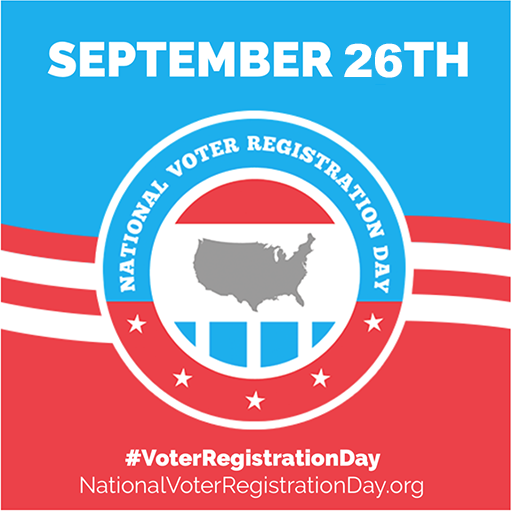 For Immediate Release
September 26, 2017
WASHINGTON, DC - The National Association of Secretaries of State (NASS), which represents chief state election officials throughout the U.S., is reminding eligible voters that today is National Voter Registration Day.
Supported by NASS since its creation in 2012, National Voter Registration Day is a collaborative effort with more than 3,000 groups dedicated to creating a non-partisan, celebratory atmosphere around the process of registering to vote.
"Secretaries of State are celebrating National Voter Registration Day with a unified call for engagement and participation," said NASS President Connie Lawson, who serves as Indiana's Secretary of State.
Alabama Secretary of State John Merrill and Minnesota Secretary of State Steve Simon volunteered to serve on the National Voter Registration Day Steering Committee to help provide bipartisan input and support.
"Despite years of progress in adding a significant number of new voters to the rolls, the U.S. Census Bureau says that 66 million Americans are not yet registered to vote," said Simon. "National Voter Registration Day gives us the chance to reach the many thousands of potential voters who still have time to register and participate in their state's November elections and future elections."
"We want to ensure that we are making voter registration part of the daily conversation on civic duty," said Merrill. "So it's essential to ensure that we have a designated National Voter Registration Day each year."
Thirty-five states and the District of Columbia currently offer online voter registration, and another three states have passed online voter registration legislation. A table of states with online voter registration is available here.
Celebrate National Voter Registration Day:
Get registered to vote. Eligible citizens who are 18 years of age or older may register to vote. Every state except North Dakota has a registration requirement for voting. Details on registering to vote in all 50 states and DC can be found on our non-partisan voting assistance website, www.CanIVote.org.
Check your voter registration information. Updating voter registration information is critical for people who have recently moved, changed their name or had their voting rights restored. Most states allow eligible voters to verify their registration status online. Visit www.CanIVote.org for help.
Spread the word! Be sure to discuss the importance of voting and voter registration with friends, family and neighbors. Share the #ReadytoVote hashtag on social media. For more on National Voter Registration Day, including events in your area, please visit your Secretary of State's website, or check out the NVRD website here.
###
ABOUT NASS
Founded in 1904, NASS is the oldest, nonpartisan professional organization of public officials in the U.S. Membership is open to the 50 states and all U.S. territories. NASS serves as a medium for the exchange of information between states and fosters cooperation in the development of public policy.
MEDIA CONTACT: Stephen Reed, Dir. of Communications | 202.624.3528 |sreed@sso.org