CATEGORY: NASS
NASS Celebrates National Voter Registration Day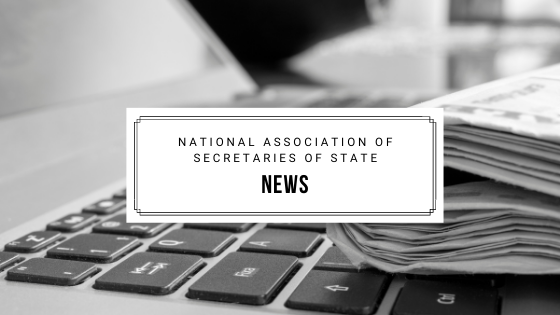 For Immediate Release — Sept. 28, 2021 — Washington, D.C. — The National Association of Secretaries of State proudly joins election officials, nonprofits, and other organizations to recognize today as National Voter Registration Day.

"By celebrating National Voter Registration Day, Secretaries of State and Lieutenant Governors who serve as their state's Chief Election Official, are coming together to highlight registering to vote as the critical first step in participating in our democracy. Take a moment today to register to vote or update your voter registration, and if you have questions about the process always turn to your state and local election officials for trusted information," said Kyle Ardoin, NASS President and Louisiana Secretary of State.

The association has a long-standing resolution in support of National Voter Registration Day and is a premier level partner.

Additionally, NASS members Minnesota Secretary of State Steve Simon and Washington Secretary of State Kim Wyman, provide bipartisan representation on the National Voter Registration Day Steering Committee.

"Americans are more passionate than ever about having a say in who governs their everyday lives, and participating in local elections is the first step. National Voter Registration Day is the perfect reminder to ensure your voice is heard. Do your part: Register to vote, and help your friends, family, and others in your community as well. Our democracy depends on your participation," said Secretary Simon.

"As Americans our right to vote is sacred; it is incumbent upon all of us to participate in our elections and make our voices heard," said Secretary Wyman. "National Voter Registration Day reminds us to recognize and celebrate every citizen's role in shaping the future of our nation."

To learn more about your state's specific voter registration requirements visit canivote.org, a helpful nonpartisan website created by state election officials to help eligible Americans learn how and where to go vote.
# # #
Media Contact:
Maria Benson, Director of Communications
mbenson@sso.org | 202-624-3528 | www.nass.org