CATEGORY: NASS
NASS Establishes New John Lewis Youth Leadership Award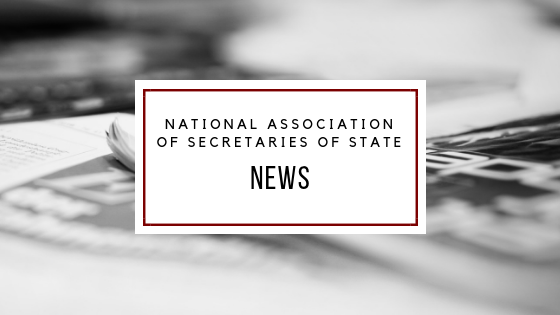 For Immediate Release — Feb. 9, 2021 — Washington, D.C. — On February 5, 2021, the members of the National Association of Secretaries of State (NASS) voted to establish the John Lewis Youth Leadership Award. This award aims to honor the impact of the extraordinary accomplishments of Congressman John Lewis. His courageous achievements during the 1960s Civil Rights Movement, as well as his long tenure of public service has inspired, and will continue to inspire, Americans for generations to come.
"At only 21, Congressman Lewis became a crusader for racial equality and civil rights. As an original Freedom Rider, March on Washington organizer and survivor of Bloody Sunday he showed that young people can truly make a difference. He continued to make 'good trouble' in Congress, tempering the national conversation as America's conscience," said Maggie Toulouse Oliver, NASS President and New Mexico Secretary of State. "Although we tragically lost Congressman Lewis in 2020, it is our hope as NASS members this new award will not only honor him, but also recognize those new souls he has inspired to do significant things for their communities."
"NASS Awards have a long, outstanding history of recognizing notable achievements of those making significant contributions to our states and our country. We are excited to add the new John Lewis Youth Leadership Award to our organization and look for­ward to this making an impact for years to come by honoring the legacy of a great man," NASS Award Committee Co-Chairs Al Jaeger, North Dakota Secretary of State and Denise Merrill, Connecticut Secretary of State jointly stated.
NASS members can select and award a civic-minded, young person in their state each calendar year who demonstrates leadership, has a passion for social justice, and works to improve the quality of life for their fellow citizens. In order to be eligible for the award, recipients must be 25 years or younger at the time of the award presentation.
# # #
Media Contact:
Maria Benson, Director of Communications
mbenson@sso.org | 202-624-3528 | www.nass.org