CATEGORY: NASS
NASS and NASED Announce Joint Effort with ABA to Promote the Need for Poll Workers for 2020 General Election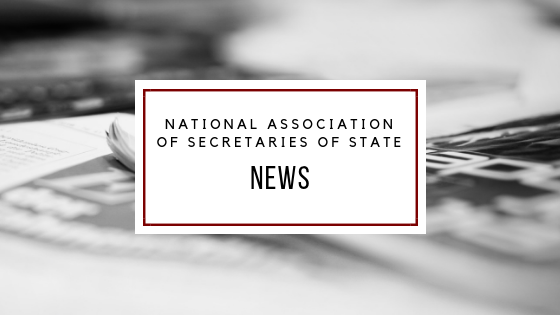 For Immediate Release — August 26, 2020 — Washington, D.C. — The National Association of Secretaries of State (NASS) and the National Association of State Election Directors (NASED) are working with the American Bar Association (ABA) to promote the need for ABA members to serve as poll workers for the upcoming 2020 General Election. The recruitment effort is ti­tled "Poll Worker, Esq." and the hashtag #PollWorkerEsq will be used on each or­ganization's social media and materials.

"During this unprecedented time, states are conducting massive poll worker re­cruitment efforts to reach Americans who are not part of the high-risk population. This is why the partnership with the American Bar Association is crucial. Their members' service as poll workers will unequivocally help communities, election of­ficials and our democracy," stated Maggie Toulouse Oliver, NASS President and New Mexico Secretary of State.

"States across the country are thinking creatively to recruit election workers who are in lower risk populations," said Lori Augino, NASED President and Director of Elec­tions for the Washington Secretary of State. "Even in states, like Washington, where most voting takes place by mail, election workers are an integral part of our democ­racy. This partnership with the American Bar Association will help state and local election officials by filling a critical staffing need and will help voters cast their bal­lots."

"Serving as a poll worker is integral to assuring a free and fair election this Novem­ber, and lawyers are especially suited to help" said Patricia Lee Refo, president of the ABA. "With the added obstacle of a pandemic this year, finding people who are at lower risk to assist as poll workers is even more important. This is an opportunity for lawyers, and soon-to-be lawyers, to step up and serve."

As part of the initiative, NASS, NASED and ABA members have also come together to create an informative video encouraging lawyers and law students to become poll workers.

ABA is the largest voluntary association of lawyers in the world and has an exten­sive communications network. Further, poll worker training for lawyers who work as poll workers may be eligible for Continuing Legal Education (CLE) credit according to state law and procedures.

Several state-level poll worker recruitment partnerships with professional organiza­tions have been tremendously successful.

It is important to note, poll workers are hired at the local level. For more information, visit the nonpartisan canivote.org, which features a "Become a Poll Worker" page.

# # #
NASS Media Contact:
Maria Benson, Director of Communications
mbenson@sso.org | 202-624-3528 | www.nass.org
NASED Media Contact:
Amy Cohen, Executive Director
acohen@nased.org | 240-801-6029 | www.nased.org