CATEGORY: NASS
Join NASS in Celebrating National Voter Registration Day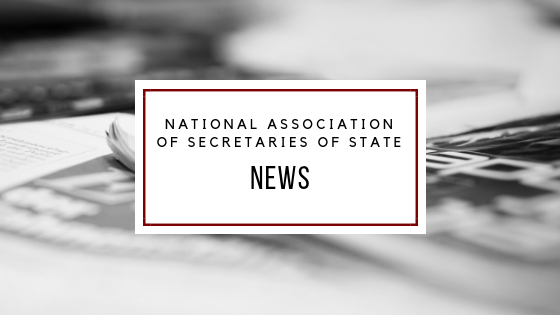 For Immediate Release — Sept. 24, 2019 —
Washington, D.C. — The National Association of Secretaries of State (NASS) is joining its members, non-profits and many others in observing National Voter Registration Day, a non-partisan effort to encourage voter registration.

"By celebrating today as National Voter Registration Day, Secretaries of State across the country are able to put an exclamation point on the importance of registering to vote. As election officials, my colleagues and I are constantly seeking ways to increase voter participation and awareness of state requirements and deadlines for voting," said NASS President Paul Pate, Iowa Secretary of State. "I'm asking all Americans to take a mo­ment today to get registered! Or if you're already registered, check your status to make sure all of your information is correct."

NASS has a resolution in support of National Voter Registration Day and is a "premier partner."

Washington Secretary of State Kim Wyman and Minnesota Secretary of State Steve Si­mon, both members of NASS, provide bipartisan representation on the National Voter Registration Day Steering Committee.

"Registering is the first step in exercising one's democratic right to vote. National Voter Registration Day is an annual opportunity to recognize and celebrate every citizen's role in shaping our country and its future," said Secretary Wyman.

"National Voter Registration Day is a celebration of our shared democracy and a reminder of its promise to all of us: every voter has a voice," said Secretary Simon. "I encourage all eligible Americans to register to vote, and to help friends, neighbors, and colleagues do so as well. There are important elections every year, so be ready to participate!"

The hashtag #VoteReady will be used by National Voter Registration Day participants to promote the day on social media.

To learn more about your state's specific voter registration requirements visit canivote.org, a helpful nonpartisan website created by state election officials to help eligible Americans learn how and where to go vote.
# # #
Media Contact:
Maria (Dill) Benson, Director of Communications
mbenson@sso.org | 202-624-3528 | www.nass.org