CATEGORY: NASS
NASS Highlights Election Preparations for the November 2018 Midterm Elections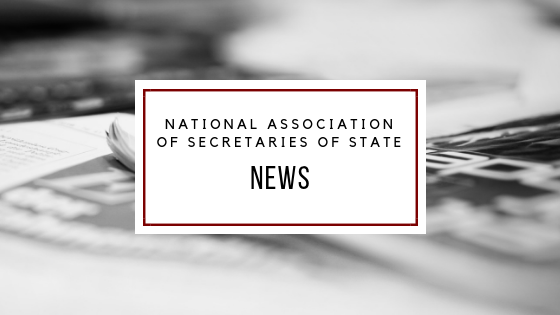 For Immediate Release — Nov. 2, 2018 —
Washington, D.C. — As we approach the November 6 general election, the members of the National Association of Secretaries of State (NASS), 40 of whom are their state's chief election official, would like to express their confidence in our nation's elections systems and processes. Secretaries of State have been working diligently to bolster cybersecurity, strengthen existing infrastructure, address election administration issues at the state level, as well as provide administrative and technical support for local election officials.
"With the highly anticipated midterm elections nearing, my colleagues and I have worked non-stop to secure election systems and protect our democracy," said NASS President Jim Condos, Vermont Secretary of State. "We realize this is a complicated issue, with high interest from malicious actors, but together we have collaborated with IT professionals, the private sector, the federal government and others to do everything in our power to safeguard election infrastructure and restore voter confidence."
NASS support efforts leading up to and heading into Tuesday, November 6:
*Coordinating with the U.S. Department of Homeland Security (DHS), the Federal Bureau of Investigations (FBI), the National Guard and the Office of the Director of National Intelligence (ODNI) for intelligence assessments and resources for states including, cyber hygiene scans, penetration tests, on-site risk assessments and reviews of existing cybersecurity measures. DHS has also announced they will have an "enhanced readiness posture" with extra teams and resources available before, during and after the election, as well as a virtual, unclassified chat room on Election Day, which will be available to all election officials.
*Serving on the Election Infrastructure Subsector Government Coordinating Council (EIS-GCC), Secretaries of State are working with other important stakeholders to share vital information regarding the elections process. This coordinating council also enables state, local and federal governments to collaborate on best practices to mitigate and counter threats to election infrastructure.
*Working with a variety of stakeholders, including local election officials, the Elections Infrastructure Information Sharing and Analysis Center (EI-ISAC), Facebook, Twitter, the National Association of State Election Directors (NASED) and voters to increase awareness of state cybersecurity practices for elections and combat misinformation.
*Utilizing the recent $380 million in Help America Vote Act (HAVA) funds appropriated by Congress earlier in 2018 and dispersed by the U.S. Election Assistance Commission (EAC) for election cybersecurity, training and new voting equipment.
*Promoting resources like canivote.org, as well as state deadlines and information to assist voters. Furthermore, NASS and its members have encouraged citizens to become engaged by becoming a poll worker, calling their local election officials with questions and voting.
For more resources and information on election preparedness for the upcoming midterms, please visit our Election Cybersecurity webpage.
# # #
Media Contact:
Maria (Dill) Benson, Director of Communications
mbenson@sso.org | 202-624-3528 | www.nass.org