CATEGORY: NASS
American Archives Month and Electronic Records Day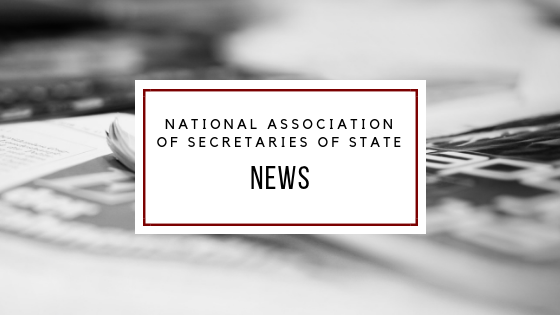 For Immediate Release — Oct. 10, 2018 — ​​​​​​​
Washington, D.C. — The National Association of Secretaries of State (NASS) recognizes October as American Archives Month. 17 Secretaries of State are responsible for state archives, working diligently with their staff to preserve and promote state history, records, collections and artifacts.

In addition, today, October 10, 2018 is Electronic Records Day. Created by the Council of State Archivists (CoSA) as part of their State Electronic Records Initiative (SERI), this day is designed to highlight the crucial need to manage and preserve government electronic records.

"Celebrating October as American Archives Month and today as Electronic Records Day, highlights the tremendous efforts currently being done in government archives and records management programs," said NASS President Jim Condos, Vermont Secretary of State. "While the duties of Secretaries of State across the country may vary, we all have some role in managing important government records—whether through oversight of the state archives, state records management programs, administration of elections, formation of business entities, commercial filings, or other key government programs. This is why all members of NASS have a deep understanding of and appreciation for the work of government archivists and records managers."

The NASS State Heritage Committee and its members work throughout the year with CoSA, the Society of American Archivists (SAA), the National Association of Government Archives and Records Administrators (NAGARA), the Library of Congress and the National Archives and Records Administration to exchange ideas and information.
# # #
Media Contact:
Maria (Dill) Benson, Director of Communications
mbenson@sso.org | 202-624-3528 | www.nass.org