CATEGORY: NASS
NASS Statement on EAC Election Readiness Summit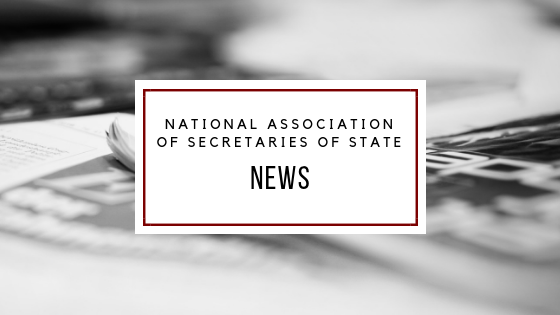 For Immediate Release – October 4, 2018 –
WASHINGTON, D.C. – Yesterday members of the National Association of Secretaries of State (NASS) attended the U.S. Election Assistance Commission's (EAC) Election Read­iness Summit on Capitol Hill. During the event Secretaries of State, state and local elec­tion officials, federal partners and industry experts discussed preparations for the upcom­ing 2018 midterm elections—including cybersecurity, resiliency plans and unique voter education and outreach plans.

NASS President Jim Condos, Vermont Secretary of State, participated in the "National Security Experts" session with Department of Homeland Security Under Secretary Chris Krebs and William Evanina, Director of the National Counterintelligence and Security Center.
Other Secretaries invited by the EAC to participate were Alabama Secretary of State John Merrill, Colorado Secretary of State Wayne Williams, Washington Secretary of State Kim Wyman and West Virginia Secretary of State Mac Warner.
NASS appreciates the opportunity to share the important work Secretaries of State are doing across the country to protect election infrastructure and engage with voters.
To view the full event, click here.
# # #
Media Contact:
Maria (Dill) Benson, Director of Communications
mbenson@sso.org | 202-624-3528 | www.nass.org