CATEGORY: NASS
October is Cybersecurity Awareness Month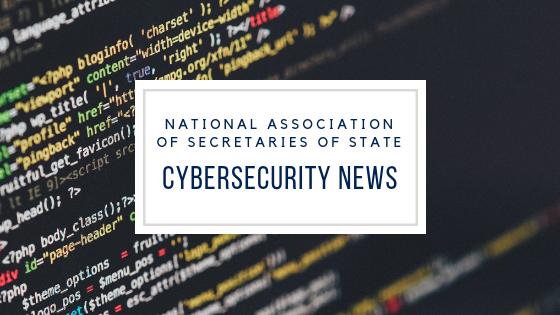 For Immediate Release — Oct. 1, 2018 —
Washington, D.C. — The National Association of Secretaries of State (NASS) joins others in the cybersecurity community to recognize October as National Cybersecurity Awareness Month.

Secretaries of State have been at the forefront of securing election infrastructure through working with their own information technology teams, local election officials, universities, the private sector, the National Guard and federal partners like the Department of Homeland Security (DHS). These efforts and information sharing will only increase as the 2018 midterm elections near.
Beyond elections, cybersecurity overall is of the utmost importance to the nation's Secretaries of State, which is why the new NASS Cybersecurity Committee was established at the 2018 NASS Summer Conference. The committee focuses on cybersecurity as it relates to all facets of member offices to include business services, election administration, records management and archiving.

"I am pleased to say states are in much better shape in 2018 than we were in 2016, when it comes to cybersecurity. My colleagues and I are heavily focused on cybersecurity, and are actively engaged in making our systems stronger than ever. We have dedicated enormous resources to bolster our systems, held trainings for employees at the state and local level, and worked with federal agencies to ensure we are not only prepared, but staying ahead of this constantly evolving threat," said NASS President Jim Condos, Vermont Secretary of State. "We have said this time and time again—cybersecurity is a race without a finish line, and we will continue to make it a top priority in 2018 and beyond."

In addition, NASS has recently hired a new Cyber Program Manager to staff the committee and engage with important stakeholders in the cybersecurity community.

Follow NASS onTwitter and Facebook for updates on cybersecurity initiatives and more.
# # #
Media Contact:
Maria (Dill) Benson, Director of Communications
mbenson@sso.org | 202-624-3528 | www.nass.org