CATEGORY: NASS
Celebrate National Voter Registration Day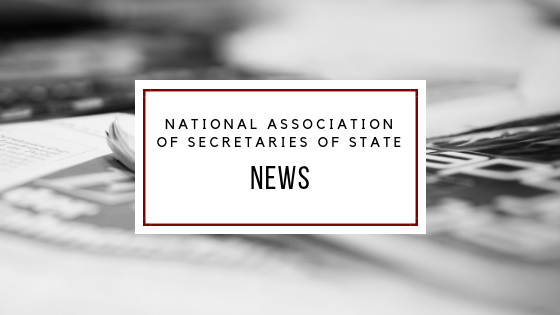 For Immediate Release — September 25, 2018 —​​​​​​​
Washington, D.C. — Today, September 25, 2018, is National Voter Registration Day. This is a collaborative effort of more than 3,000 groups dedicated to creating a non-partisan, celebratory atmosphere around the process of registering to vote and has been supported by the National Association of Secretaries of State (NASS) since its creation in 2012.
"Secretaries of State across the country are celebrating National Voter Registration Day by holding registration drives, promoting state tools and rules for voting, as well as utilizing social media," said NASS President Jim Condos, Vermont Secretary of State. "This unified effort highlights one of the best parts of our jobs as chief state election officials—registering eligible voters! If you are already registered or have questions, take a moment today to check with your Secretary of State or local election official."
Washington Secretary of State Kim Wyman and Minnesota Secretary of State Steve Simon provide bipartisan representation on the National Voter Registration Day Steering Committee.
"The success of our representative democracy depends on the American people making their voices heard and their opinions known," said Secretary Wyman. "National Voter Registration Day is an ideal opportunity for citizens to help make crucial decisions about the communities in which they reside and the very liberties which they enjoy."
"The continued success of our great American experiment depends on participation in our democracy," said Secretary Simon. "National Voter Registration Day is an important reminder for all Americans to check your registration status and to get registered if you're eligible. It's also never too early to start planning for Election Day – when and where will you vote this November 6?"
The hashtag #MidtermsOnMyTerms will be used by National Voter Registration Day participants to promote the day on social media.
Please note that states have different eligibility conditions, deadlines and tools to register and check voter registration status. To learn more about your state's specific requirements visit canivote.org, a helpful nonpartisan website created by state election officials to help eligible Americans learn how and where to go vote.​​​​​​​
# # #
Media Contact:
Maria (Dill) Benson, Director of Communications
mbenson@sso.org | 202-624-3528 | www.nass.org