CATEGORY: NASS
NASS Notary Public Administrators Section Elects National Officers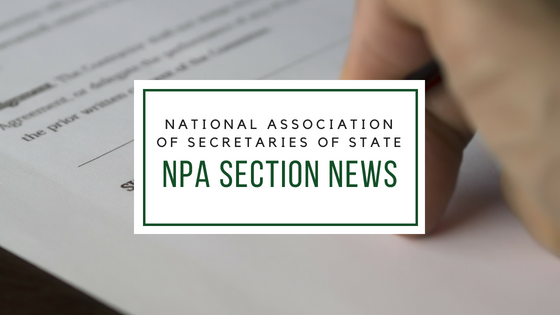 For Immediate Release – August 7, 2018 –

WASHINGTON, D.C. – The Notary Public Administrators (NPA), a staff section of the National Association of Secretaries of State (NASS) announced the election of its new slate of national officers, including new President Mike Smith of Georgia.
"It is a privilege to serve as President of this essential group. I look forward to working with each of the elected officers to discuss and advance notary issues," said NPA President Mike Smith.
Each officer serves for a two-year cycle (2018-2020):
President: Mike Smith, Georgia
Vice-President - Danielle Fusco Diemer, Arkansas
Treasurer - Lori Hamm, Montana
Secretary - Maureen Ewing, Rhode Island
Eastern Representative - Cathy Beaudoin, Maine
Southern Representative - Ozie Stallworth, North Carolina
Mid-Western Representative - Beth Herzog, North Dakota
Western Representative - Audrey Roos, Washington
Formed in 1998, NPA is a national organization of persons in government and the private sector with professional interests and responsibilities in notary law and the commissioning and administration of notaries. It has a diverse membership that includes not only notary public administrators, but commissioning authorities, professional notary associations and other governmental and private industry entities with an interest in the office of notary public.
For more information, please visit: http://www.npa-section.com/.
###
Media Contact:
Maria (Dill) Benson, Director of Communications
mbenson@sso.org | 202-624-3528 | www.nass.org