CATEGORY: NASS
National Rules Survey is Released and Available for Local Libraries and Research Centers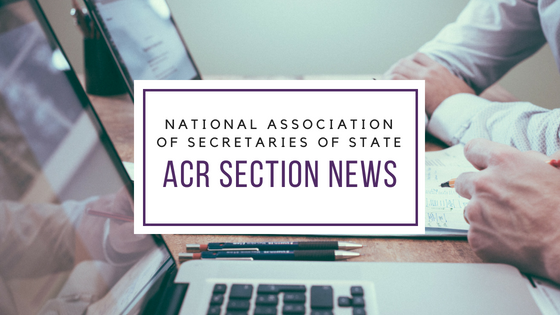 For Immediate Release — Aug. 2, 2018 —
Washington, D.C. — The Administrative Rules 2018-2019 State and Federal Survey is now available for purchase from ACR (the Administrative Codes and Registers Section) of the National Association of Secretaries of State.
The State and Federal Survey is a valuable tool that contains a wealth of information about administrative rules in U.S. states and jurisdictions and well as information about the federal government.
"This survey is a must have for anyone who needs to know about administrative rules," stated Christopher Coffman, ACR president. "It includes contact information for those who are charged with processing and publishing rules and is a helpful research tool."
Despite the cost of other publications rising, this survey is still being offered by ACR for the low price of $40. It is current as of the 2018-2019 publishing cycle and includes informative statistics answered by those who know the rules best, the editors and publishers of administrative rules.
To order, visit www.administrativerules.org, select "About," then select "Survey For Sale."
# # #

Media Contact:
Maria (Dill) Benson, Director of Communications
mbenson@sso.org | 202-624-3528 | www.nass.org