CATEGORY: NASS
New NASS Election Infrastructure Subsector Government Coordinating Council Appointments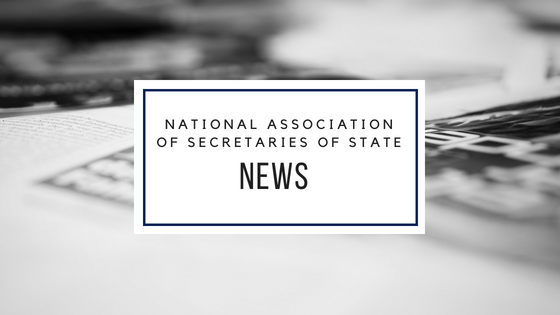 For Immediate Release — July 25, 2018 —
Washington, D.C. — The National Association of Secretaries of State (NASS) is pleased to announce new Election Infrastructure Subsector Government Coordinating Council (EIS-GCC) appointments have been made. The EIS-GCC is the first group of its kind to help important stakeholders share vital information regarding the elections pro­cess. This coordinating council enables state, local and federal governments to share in­formation and collaborate on best practices to mitigate and counter threats to election in­frastructure.
New NASS EIS-GCC Appointments:
*NASS President: Hon. Jim Condos, Vermont (who will also serve on Executive Commit­tee of EIS-GCC)
*NASS President-elect: Hon. Paul Pate, Iowa
*NASS Immediate Past President: Hon. Connie Lawson, Indiana
*NASS Treasurer: Hon. Maggie Toulouse Oliver, New Mexico
*NASS Elections Co-Chair: Hon. Nellie Gorbea, Rhode Island
*NASS Elections Co-Chair: Hon. Kim Wyman, Washington
*Volunteer: Hon. Steve Simon, Minnesota
*Volunteer: Hon. Tre Hargett, Tennessee
Alternates:
*Volunteer: Hon. Denise Merrill, Connecticut
*Volunteer: Hon. Wayne Williams, Colorado
*Volunteer: Hon. Alex Padilla, California
*Volunteer: Hon. Barbara Cegavske, Nevada
Other members of the council include individuals from the National Association of State Election Directors, the Election Center, the International Association of Government Of­ficials, Department of Homeland Security (DHS), and the U.S. Election Assistance Com­mission (EAC).
# # #
Media Contact:
Maria (Dill) Benson, Director of Communications
mbenson@sso.org | 202-624-3528 | www.nass.org