CATEGORY: NASS
NASS 2018 Summer Conference Highlights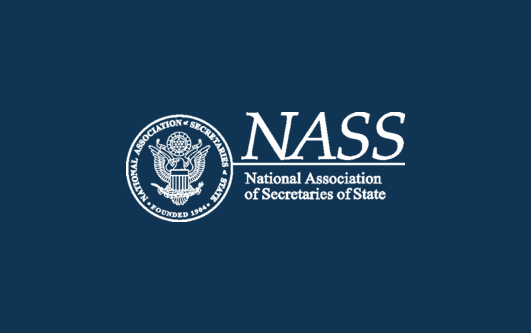 For Immediate Release
July 18, 2018
Washington, D.C. — Secretaries of State and senior staff members from 38 states and the District of Columbia gathered in Philadelphia, Pennsylvania for the 101st annual summer meeting of the National As­sociation of Secretaries of State (NASS), held July 13 through July 16. The four-day event focused heavily on elections cybersecurity, along with discussions on administration, business services and international relations issues.
NASS leadership for 2018-2019 was also sworn in. Vermont Secretary of State Jim Condos was inducted as President, along with a full slate of new leadership positions. Click here for the July 16 release on lead­ership updates.
Conference Highlights
Workshops/Speakers:
On July 14, Department of Homeland Security (DHS) Secretary Kirstjen Nielsen delivered the keynote speech. During her remarks she emphasized election security is national security, focusing on the im­portance of the department's partnership with state election officials to secure the nation's elections infra­structure from foreign adversaries. NASS appreciates Secretary Nielsen's time and commitment to our as­sociation and its members. A full copy of her remarks can be found here.
Other public and private sector speakers, included: YMCA Youth Secretaries of State Program, 15 Minutes Group, U.S. Senate Rules and U.S. Senate Intelligence Committee staff, DHS National Protection and Pro­grams Directorate, Democracy Fund, Auburn University, Mercatus Center at George Mason University, U.S. National Guard, National Archives Foundation, U.S. Small Business Administration, Organization for Security and Cooperation in Europe, Consular Corps Association of Philadelphia, Honorary Consul of Uru­guay, General Consul of Mexico, International Trademark Association and many others.
The conference agenda is available here, which includes a full list of speakers and organizations.
2018 National Awards:
During a special awards ceremony held July 15, the Office of the California Secretary of State was selected to receive the 2018 NASS IDEAS Award, which recognizes innovation and excellence in state program­ming. California was recognized for its California Digital Archives program, which is a public-private partner­ship with Google.
Secretary of State offices in Colorado, Indiana and Mississippi were also recognized for their national final­ist submissions, which were reviewed and voted on by members.
On July 16, the association announced it will award the 2018 Margaret Chase Smith American Democracy Award for political courage to Hon. Dan Evans and Hon. Ralph Munro: for their efforts to settle approxi­mately 30,000 Vietnamese refugees in Washington following the fall of Saigon in 1975. The award will be presented at the NASS 2019 Winter Conference in Washington, D.C.
Resolutions:
The following NASS policy resolutions were approved by member vote July 16, 2018:
*NASS Resolution in Support of Efforts to Preserve American Historical Record
*NASS Resolution Urging the National Political Parties to Set Earlier Nominating Convention Dates
*NASS Resolution of Recommendation to the International Corporation of Assigned Names and Num­bers-ICANN-for Issuance of Corporate Internet Extensions
*NASS Resolution for the Adoption of National Apostille Issuance Guidelines
Corporate Affiliate White Papers:
Each year, NASS corporate affiliates submit white papers showcasing their expertise. This summer's sub­missions include:
*Akamai: How Securing Recursive DNS Proactively Protects Your Network
*BPro: GIS and the Future of Voter Registration Systems
*Clear Ballot: Automated Post-Election Audits: Securing America's Voting Systems
*Democracy Live: Accessible Absentee Balloting: It's Not Just the Law, It's the Right Thing to Do
*Facebook: Protecting Election Integrity on Facebook
*Foster Moore: Distributed Ledger Technology and Cryptocurrencies
*Hart InterCivic: Defending the Castle: Protecting Your Elections with Defense in Depth
*PCC/GCR: Multifactor Authentication
*Runbeck Election Services: Petition Management: The Software Revolution
*SecurityFirst: Defending the Vote: A Secure Data Strategy for the 2018 Elections
*Votem: White Paper
Photos of the conference can be found on our Facebook and Twitter pages. Conference presentations and notes are available to members in DC Connection on the NASS website.
# # #
Media Contact:
Maria (Dill) Benson, Director of Communications
mbenson@sso.org | 202-624-3528 | www.nass.org