CATEGORY: NASS
NASS Announces IDEAS Award Finalists Featuring State Archives, Business Services and Election Security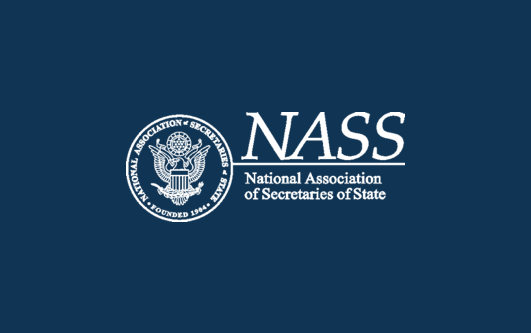 For Immediate Release — March 5, 2018 —
Washington, D.C. — The National Association of Secretaries of State (NASS) an­nounces the selection of four national finalists for the 2018 NASS IDEAS Award, which recognizes innovation, dedication, excellence and achievement in service in state programing.
The four finalists were selected by the NASS Executive Board and NASS Awards Committee out of 11 submissions, and were revealed at the NASS 2018 Winter Conference recently held in Washington, D.C.:
*California - Digital Archives: A Public-Private Partnership with Google
*Colorado - Cybersecurity Protects Election Integrity Initiative
*Indiana - INBiz
*Mississippi - Y'all Business
"Secretaries of State are always working to improve services and engage with their citizens. The IDEAS Award recognizes outstanding state programs at a national level which have demonstrated a significant contribution to their state." said NASS Awards Committee Co-Chair Al Jaeger, North Dakota Secretary of State. "These outstanding state initiatives will be presented during the NASS Summer Confer­ence in Philadelphia from which a national honoree will be selected. Regardless of which state is selected as the IDEAS Award recipient, each nominee has provided an excellent service for its state."
Representatives for each of the four finalists will be invited to showcase their state's program during the upcoming NASS 2018 Summer Conference, which will take place from July 13 to July 16 in Philadelphia, Pennsylvania.
NASS members will select the national honoree from among the finalists and the recipient office will be presented with the award during the conference. State sub­missions are judged according to their history, significance and overall outcomes.
For more information about the NASS IDEAS Award and for a list of previous win­ners click here.
# # #
Media Contact:
Maria (Dill) Benson, Director of Communications
mbenson@sso.org | 202-624-3528 | www.nass.org


ABOUT NASS
Founded in 1904, NASS is the oldest, nonpartisan professional organization of public offi­cials in the U.S. Membership is open to the 50 states and all U.S. territories. NASS serves as a medium for the exchange of information between states and fosters cooperation in the development of public policy.