CATEGORY: NASS
NASS Announces Little Rock Nine as Margaret Chase Smith Award Recipients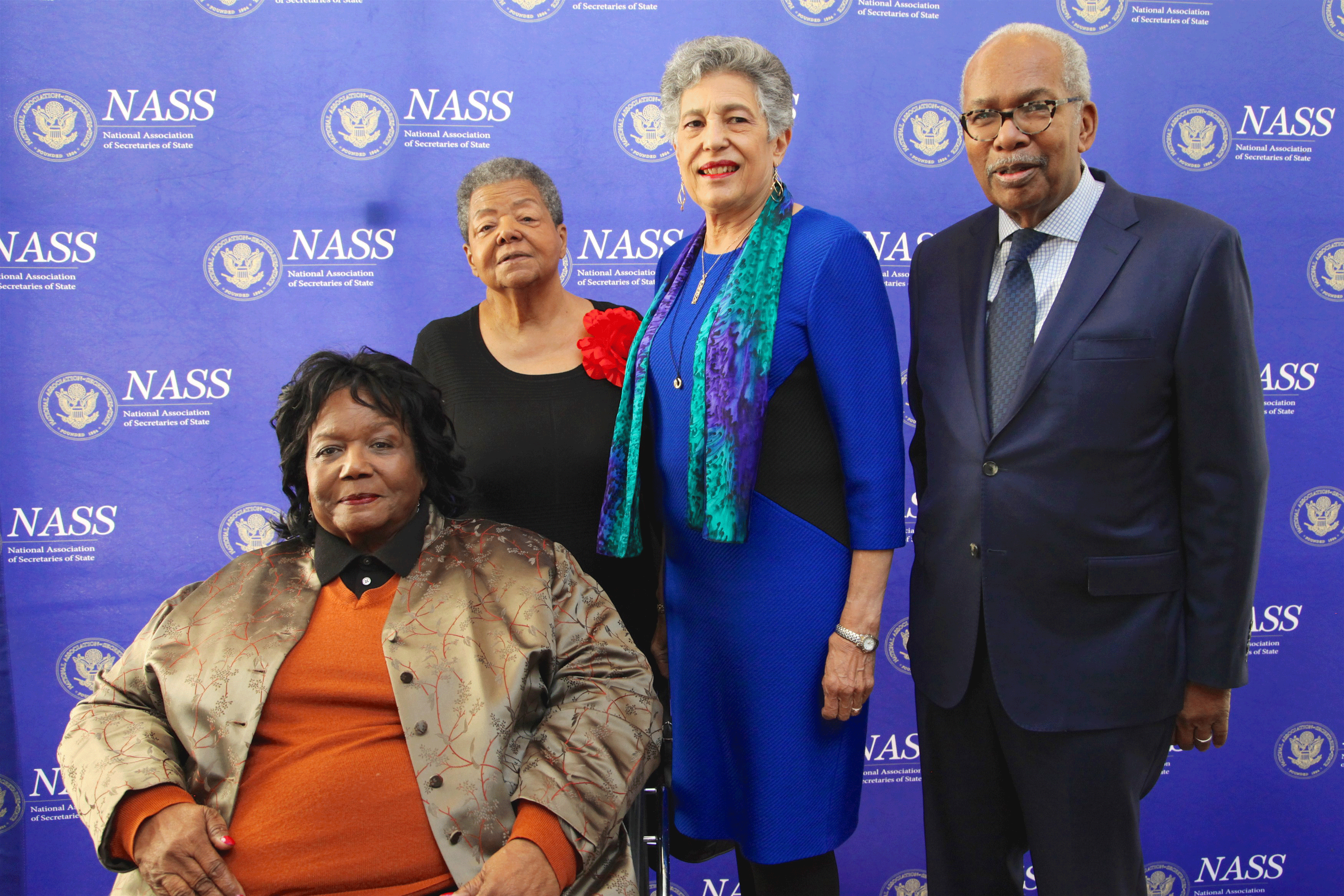 For Immediate Release — Feb. 20, 2018 —
Washington, D.C. — The National Association of Secretaries of State (NASS) presented the 2017 Margaret Chase Smith American Democracy Award for political courage to the Little Rock Nine. The ceremony took place during the NASS Winter Conference in Washington, D.C. on Sunday, Feb. 18, 2018.
The Little Rock Nine: Minnijean Brown (Trickey), Elizabeth Eckford, Ernest Green, Thelma Mothershed (Wair), Dr. Melba Pattillo (Beals), Gloria Ray (Karlmark), Dr. Terrence Roberts, Jefferson Thomas and Carlotta Walls (LaNier) were nominated by Arkansas Secretary of State Mark Martin for their brave actions during the integration of schools after the momentous Brown v. Board of Education decision of 1954.

These nine African-American students enrolled at Central High School in Little Rock, Arkansas, in the fall of 1957. At the time it was an all-white school. Their journey was filled with push-back from public officials, students, teachers and members of the community.

However, with the help of President Eisenhower, the National Guard, their families and others they courageously pressed on. The Little Rock Nine's actions sparked a nationwide awakening and was a crucial step in desegregating schools.

"In the tradition of speaking 'truth to power,' the Little Rock Nine exhibited uncommon courage and exceptional character in pursuit of their rights to equal treatment under our country's laws," said Martin. "Their bravery and fortitude in standing as young people against the evil of discrimination, they pushed us collectively on a path of bettering the nation. We owe them a debt of honor, and this award is another small part of the many expressions of gratitude for their sacrifices."

Elizabeth Eckford, Ernest Green, Dr. Melba Pattillo (Beals) and Carlotta Walls (LaNier) were in attendance at the award ceremony. A complete list of past Margaret Chase Smith Democracy Award recipients can be viewed here.
(Photo credit: Liz Gorman)
# # #
Media Contact:
Maria (Dill) Benson, Director of Communications
mbenson@sso.org | 202-624-3528 | www.nass.org