CATEGORY: NASS
Hand Sanitizer in Support of 2020 Elections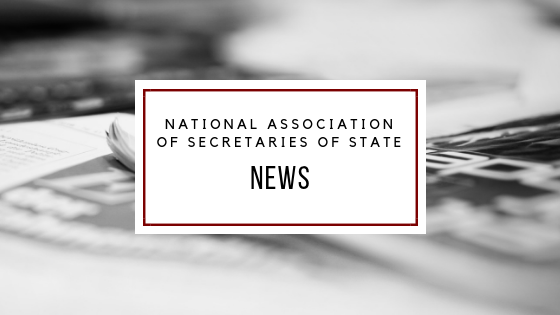 For Immediate Release — Aug. 13, 2020 — Washington, D.C. — In support of its 'Brew Democracy' initiative designed to increase participa­tion in the political process and bring the nation's political leaders together, Anheuser-Busch is producing and donating more than eight million ounces of hand sanitizer to polling locations across the United States for this November's General Election.

In coordination with the National Association of Secretaries of State (NASS), the National Associa­tion of State Election Directors (NASED) and the Cybersecurity and Infrastructure Security Agency (CISA), Anheuser-Busch will distribute the hand sanitizer to state election offices that have re­quested it to help ensure the safety of voters and polling site workers throughout the election pro­cess.

"Having sufficient, critical personal protective equipment is absolutely necessary for the general election in November. We truly appreciate Anheuser-Busch for their willingness to produce and donate hand sanitizer to state and local election officials as they work on the frontlines of democra­cy in the midst of the COVID-19 pandemic," said Maggie Toulouse Oliver, NASS President and New Mexico Secretary of State.

"The safety of our voters and our election workers is paramount this year, especially as election officials prepare for record turnout in the November election. With PPE in short supply, we appre­ciate Anheuser-Busch helping state and local election officials serve our voters safely. Voters across the country can feel confident knowing their election officials are taking steps to provide for their safety if they choose to vote in person," said Lori Augino, President, NASED, and Director of Elections, Washington Secretary of State.

"As a leading U.S. employer, Anheuser-Busch is committed to uniting our communities, strength­ening our democracy and encouraging even greater participation in the political process. One part of this commitment is shifting our production capabilities to donate hand sanitizer so that election officials and voters throughout the country can take part in a safe election this fall." said Cesar Vargas, Chief External Affairs Officer, Anheuser-Busch. "We like to say that 'beer is bipartisan' and we are proud to step up and serve our communities during this election season."

"We've said it time and time again, protecting our nation's elections requires a whole nation of ef­fort and in these challenging times, that's never been more true," said Christopher Krebs, Direc­tor of CISA. "We appreciate those who are doing their part and providing resources to protect our nation's most precious democratic process by helping keep American voters safe and healthy this fall."

"Voters deserve to feel confident that they will have a safe and healthy voting experience this fall. Elections officials are working hard to modify polling places to meet the needs of this moment in our nation's history. We can't do it alone—we will need partners like Anheuser-Busch. I greatly ap­preciate Anheuser-Busch's donation of hand sanitizer, which will help protect voters and poll work­ers throughout California," said Alex Padilla, California Secretary of State.

"This partnership between Anheuser-Busch and America's election officials allows voters to have confidence that our deeply rooted tradition of casting a ballot in-person will have one additional protection available for voters and election workers to stay safe. West Virginia and our county clerks appreciate the partnership with Anheuser-Busch to make and distribute hand sanitizer, to further help election officials hold a safe, fair and successful Presidential election in November," said Mac Warner, West Virginia Secretary of State.

The brewer will leverage its production capabilities to produce hand sanitizer at its Baldwinsville, NY and Los Angeles, CA breweries as well as through its partners at Cutwater Spirits (San Diego, CA) and Devils Backbone Brewing Company (Roseland, VA) then utilize its logistics expertise to deliver the sanitizer through its wholesaler network to polling locations and election offices across the country.

Anheuser-Busch first began producing and distributing hand sanitizer earlier this year to help ac­commodate the growing need for critical resources among its employees, partners and communi­ties in the face of the COVID-19 pandemic. This spring, the brewer donated more than 500,000 8oz bottles of hand sanitizer to community organizations – including emergency management agencies, food banks, and healthcare systems – across 20 states and Washington, D.C.

# # #
NASS Media Contact:
Maria Benson, Director of Communications
mbenson@sso.org | 202-624-3528 | www.nass.org
NASED Media Contact:
Amy Cohen, Executive Director
acohen@nased.org | 240-801-6029 | www.nased.org