CATEGORY: NASS
NASS Urges Congress to Pass Omnibus Appropriations Bill Featuring HAVA Funding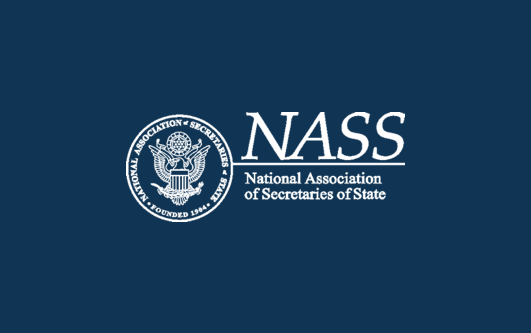 For Immediate Release — March 22, 2018 —
Washington, D.C. — The members of the National Association of Secretaries of State (NASS) are extremely pleased Congress has included $380 million Help America Vote Act (HAVA) dollars in the 2018 Omnibus Appropriations bill. We would like to thank the many Senators, House Members and Congressional staff who have worked so hard on our behalf to secure this funding. This money will go a long way to aiding the states as they prepare for 2018 elections and beyond.
"As my state's chief elections officer and President of the National Association of Secretaries of State, there is no higher priority than protecting our election systems. I am pleased to learn that Congress plans to appropriate the remaining HAVA dollars to state governments, and look forward to investing those dollars in system upgrades, voting protections, and voter education," said NASS President Connie Lawson, Indiana Secretary of State.
According to the language of the Omnibus, these HAVA payments to states must be completed within 45 days and deposited into each state's HAVA account. The U.S. Election Assistance Commission (EAC) will have responsibility calculating the formula and amounts for each state and territory and disbursing those payments. The bill language also allows the states to determine their most pressing priorities, and use this money to meet those needs, including enhancing election technology and upgrades to cybersecurity.
"Safeguarding the integrity of our elections process will require the ongoing commitment and vigilance of the federal, state and local governments and our public and private partner institutions. We must collaboratively work to guarantee secure elections, thus restoring voter confidence in our systems and in our democracy. I want to thank Congress on behalf of all Secretaries of State and all Americans for enabling us to acquire us additional tools to ensure election integrity. Nothing could be more important," said NASS President-elect Jim Condos, Vermont Secretary of State.
Election officials strive to ensure elections are administered in a secure manner, whether it is protecting voter registration data from cybersecurity threats or ensuring that the votes citizens cast are protected from tampering or manipulation. As election officials work to fulfill this commitment to improve voter confidence, we are pleased Congress is working to keep its commitment to states provide these resources.
We urge Congress to pass this important funding bill and encourage the President to sign it.
# # #
Media Contact:
Maria (Dill) Benson, Director of Communications
mbenson@sso.org | 202-624-3528 | www.nass.org