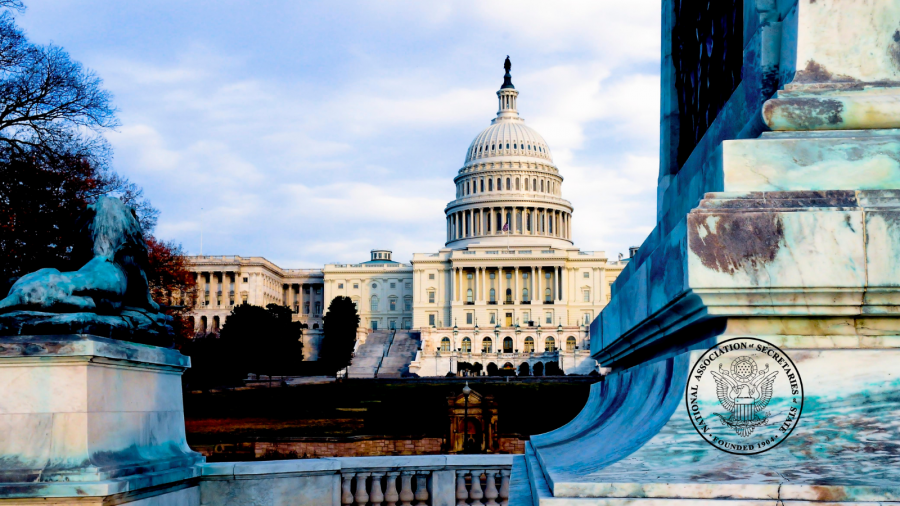 When:
Feb 15 - Feb 18
Where:
Washington, DC
Facility:
Registration:
Register Now!

The cost to attend is $500 early/ $600 late (after January 24, 2023) for Secretaries of State, State Government Staff, NASS Corporate Affiliates and Federal Government Staff. The cost for Non-Profit Organizations to attend is $750 per person early/ $850 late (proof of valid non-profit status required). The cost for Corporate Non-Members to attend is $1300 per person early/ $1400 late. Registration for this event will close on Friday, February 3, 2023, or when registration capacity is fulfilled. On-site registration WILL NOT be available for this event. All event attendees are subject to the event anti-harassment policy and conference waiver of liability. There is no virtual option to attend.
Press registration (free): There are 40 individual in-person media slots given on a first-come basis. To register for one of the 40 media slots, please email Maria Benson, NASS Director of Communications at mbenson@sso.org. Certain sessions clearly noted on the agenda, as well as all evening events are CLOSED to the press. The media registration deadline is Friday, Feb. 3 at 3pm ET or until the slots have been filled, whichever comes first. Admittance is subject to NASS approval. There will be no on-site or day of registration available. Virtual attendance is not available.
Hotel Reservations:
Grand Hyatt Washington
1000 H St NW
Washington, DC 20001
202-582-1234
The NASS rate at the Grand Hyatt is $188 per night, plus state and local taxes (14.95%). The rate is guaranteed through Tuesday, January 24, 2023 or until the room block sells out. Attendees are responsible for making their own hotel/travel arrangements. Click here to make your reservations online or by phone, call 877-803-7534 and mention the National Association of Secretaries of State to receive the discounted rate. Any cancellations without 72-hours advance notice prior to arrival will result in the forfeiture of one night deposit. The Grand Hyatt charges one night's room and tax for all early departures.
Transportation:
The Grand Hyatt Washington DC is approx. 5 miles from Ronald Reagan National Airport (DCA) and 27 miles from Dulles International Airport (IAD). Click here for more information on ground transportation from Reagan National Airport. Please arrange your own ground transportation. Overnight valet parking at the Grand Hyatt is $66 daily. Click here for alternate parking garages and Metro details.
Exhibitors:
NASS DOES NOT SELL EXHIBIT SPACE THROUGH A THIRD PARTY. EXHIBIT SPACE IS ONLY AVAILABLE THROUGH NASS REGISTRATION. EXHIBIT SPACE IS SOLD-OUT FOR THIS EVENT!
Exhibit space is only available for current NASS Corporate Affiliates at this event. Exhibit space will be located in a central location at the Grand Hyatt, providing continuous conference traffic adjacent to the meeting space. NASS will provide a 6' table with a tablecloth and two chairs. Registration for exhibit space will be available to NASS Corporate Affiliates through the online registration system. Space is limited to 30 exhibitors and will be assigned on a first-come, first-served basis. Exhibit space for this event is likely to sell-out. The exhibitor layout will be distributed after January 24, 2023. Wi-Fi and electricity will be provided. For questions about additional AV needs please contact Katie Schrum (katie.schrum@encoreglobal.com) at ENCORE. 
Event Agenda:
Agenda is subject to change. Committee meetings and sessions are open to all attendees unless otherwise noted. Sessions marked CLOSED and all evening events are not open to press/media. Conference dress is business attire. Valid conference ID badge is required for entry to ALL meetings and events. There is no virtual option to attend. Meeting times are listed in Eastern Time.
Election Infrastructure Government Coordinating Council (EIS-GCC) Meeting (Not a NASS Meeting)
CLOSED SESSION – Executive Board Meeting & Lunch
Any NASS Member Secretary/Lt. Governor may attend
CLOSED SESSION - Secretaries-Only Meeting
CLOSED SESSION – State Staff Only Meeting
CLOSED SESSION - New Member Orientation with NASS Executive Board
CLOSED SESSION - New Member Reception
All NASS Member Secretaries/Lt. Governors invited to attend plus one guest
Cybersecurity Committee
Co-Chairs: Hon. Kyle Ardoin, LA & Hon. Tahesha Way, NJ
Elections Committee
Co-Chairs: Hon. Paul Pate, IA & Hon. Maggie Toulouse Oliver, NM
NASS Awards Luncheon Featuring the Posthumous Presentation of the 2022 Margaret Chase Smith American Democracy Award to Miguel Trujillo & Special Guest Speaker
Workshop: Elections Related
Breakfast - International Relations Committee
Co-Chairs: Hon. Michael Adams, KY & Hon. Shenna Bellows, ME
Business Services Committee
Co-Chairs: Hon. John Thurston, AR & Hon. Jena Griswold, CO
Workshop: Digital Government in 2023: Trends, Opportunities, and Challenges
 
Lunch with Keynote Speaker
Securities Committee
Co-Chairs: Hon. David Scanlan, NH & Hon. Elaine Marshall, NC
Headshot Lounge Open
NASS Members in need of a new headshot? Come join us for a complimentary headshot that can be used for your website, social media, speaker bio, news articles, etc.
sign-up onsite
State Heritage Committee
Co-Chairs: Hon. Cord Boyd, FL & Hon. Steve Hobbs, WA
Reception for Secretaries, Lt. Governors and Corporate Affiliates Only
CLOSED SESSION - Secretaries-Only Meeting
CLOSED SESSION – Communications Staff Roundtable
NASS Business Meeting 
Members will vote on business items adopted by NASS committees.
Event Sponsors:
Red Line
Blue Line
Green Line