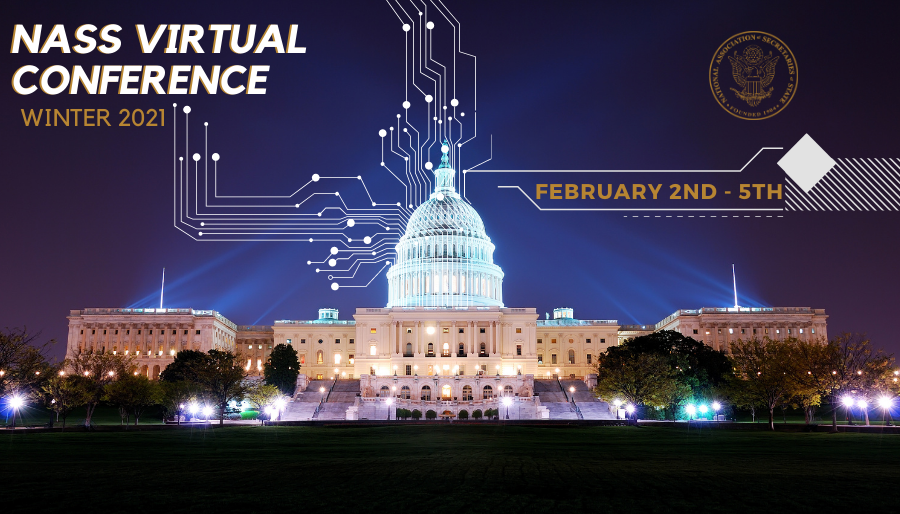 When:
Feb 2 - Feb 5
Where:
Online
Facility:
Registration:
Register Now for the NASS 2021 Virtual Winter Conference!
Registration Fees:

NASS Members/ State Govt. Staff/ Non-Profit - $50 per person
NASS Corporate Affiliates - $50 per person
Corporate Non-Member - $150 per person

Please Note: there are no refunds for this event. If you would like to transfer your registration please contact Stacy Dodd at sdodd@sso.org. Registration for this event will end on Friday, January 29, 2021 at 5 PM ET.

Press/Media Registration (free): There are 30 individual media slots, which will be given on a first-come-first-serve basis. Registered reporters will be granted media access to open sessions of the conference. To register for ONE of the 30 first-come-first-serve media slots, please email Will Dinneen, NASS Acting Press Secretary, at wdinneen@sso.org. In the interest of fairness, reporters may not email on behalf of their colleagues to reserve a slot for them. Two registrants max per outlet.
Event Agenda:
Please note all agenda times are listed in Eastern time. Agenda sessions and topics are subject to change.
Awards Committee
Co-Chairs: Hon. Denise Merrill, CT & Hon. Al Jaeger, ND
Committee Business
Discussion of proposed new John Lewis Youth Leadership Award
CLOSED SESSION - Secretaries-Only Session
CLOSED SESSION - SOS Staff-Only Session
Business Services Committee Meeting
Co-Chairs: Hon. Jay Ashcroft, MO & Hon. Kathy Boockvar, PA
Regulatory Process for Implementing New Corporate Transparency Act
-  U.S. Treasury's Financial Crimes Enforcement Network (invited)

Pandemic Executive Orders and Temporary State Legislation on Remote Notarization - What's Next
-  Hon. Michael Watson, Mississippi Secretary of State
-  Hon. Elaine Marshall, North Carolina Secretary of State

Business Scams - A National Approach to Education
-  NASS and States Partner with Business Groups to Counter Business Scams
Workshop: Remote Online Notarization
Moderated by: Hon. Jay Ashcroft, Missouri Secretary of State
Hon. Jena Griswold, Colorado Secretary of State

Hon. Paul Pate, Iowa Secretary of State

Ms. Nicole Booth, EVP Public Affairs, Notarize

Ms. Pat Fry, Co-chair, Standby Committee to Amend the Revised Law on Notarial Acts, Uniform Law Commission (ULC)

Ms. Elizabeth Blosser, Senior Director of Government Affairs, American Land Title Association (ALTA)
Cybersecurity Committee
Co-Chairs: Hon. Paul Pate, IA & Hon. Maggie Toulouse Oliver, NM
 - Panel Discussion: Secretary of State Collaboration with Cybersecurity Researchers
Mr. Trevor Timmons, Chief Information Officer, Colorado Secretary of State's Office with Mr. Mark Kuhr, Co-Founder & Chief Technology Officer, Synack

Mr. Jeff Franklin, Chief Cyber Officer, Iowa Secretary of State's Office with Mr. Casey Ellis, Founder & Chief Technology Officer, Bugcrowd

Mr. Sean McAfee, Chief Information Security Officer, Ohio Secretary of State's Office
 - Panel Discussion: The Future of Cybersecurity for State and Local Government
Mr. Frank J. Cilluffo, Director, Auburn University's McCrary Institute for Cyber and Critical Infrastructure Security

Ms. Tonya Rice, Leader, US Elections, Amazon Web Services (AWS)

Congressman Jim Langevin (D-RI), Co-Chair of Congressional Cybersecurity Caucus
General Session: State Priorities in the New Biden Administration

Moderated by: Hon. Maggie Toulouse Oliver, New Mexico Secretary of State
The White House, Office of Intergovernmental Affairs
Ms. Julie Rodriguez, Director of Intergovernmental Affairs, The White House

National Governors Association
Ms. Susie Quinn Perez, Director of Government Affairs, NGA

National Association of Attorneys General
Mr. Chris Toth, Executive Director, NAAG

National Conference of State Legislatures
Ms. Susan Parnas Frederick, Senior Federal Affairs Counsel, NCSL
Elections Committee
Co-Chairs: Hon. Jocelyn Benson, MI & Hon. Frank LaRose, OH
Workshop - Case Studies: Correcting Election Misinformation
Hon. Katie Hobbs, Arizona Secretary of State

Hon. Brad Raffensperger, Georgia Secretary of State

Hon. Jocelyn Benson, Michigan Secretary of State

Hon. Frank LaRose, Ohio Secretary of State
CLOSED SESSION: After-Action Review - IT and Cybersecurity Observations from the 2020 Election Cycle and Priorities for Moving Forward
Discussion Leaders:
Mr. David Tackett, Chief Information Officer, West Virginia Secretary of State's Office

Mr. Terrance Jackson, IT Director & Mr. Gregg Cranshaw, Security Architect, Rhode Island Secretary of State's Office

Mr. Spencer Wood, Chief Information Officer, Ohio Secretary of State's Office

Mr. Trevor Timmons, Chief Information Officer, Colorado Secretary of State's Office 
CLOSED SESSION: Communications State Staff Roundtable with Social Media Representatives
Facebook

Google

Snapchat

TikTok

Twitter
CLOSED SESSION: Secretaries-Only Session
CLOSED SESSION: SOS Staff-Only Session
Business Meeting
Members will vote on business items adopted by NASS committees