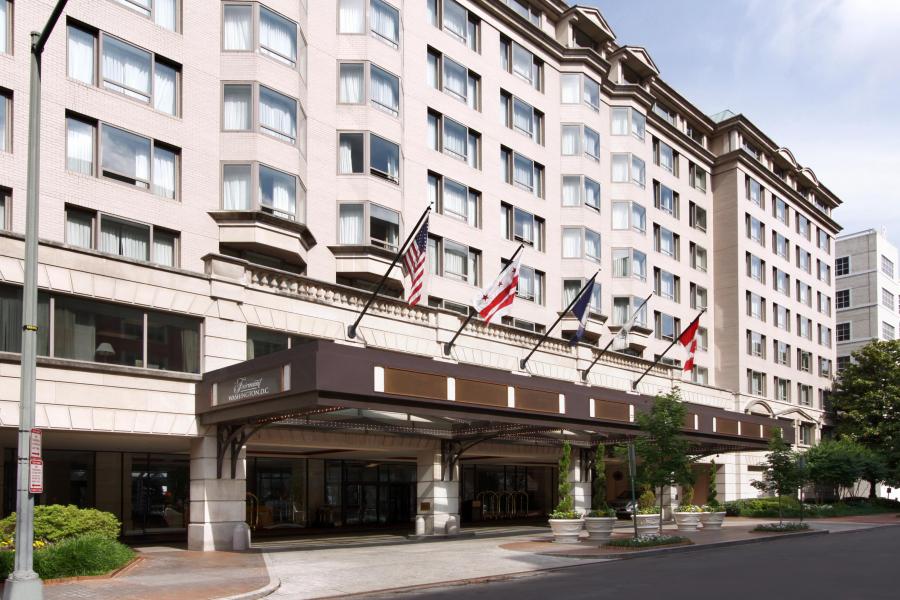 When:
Feb 1 - Feb 4
Where:
Washington, DC
Facility:
Registration:
Register Now for the 2019 NASS Winter Conference!

Early Registration Rates -
SOS/Lt. Governor/Emeritus Member $500
Staff/Govt./Non-Profit $500
NASS Corporate Affiliate $500
Corporate Non-Member $1100
Guest/Spouse $350

A late registration fee of $100 per person will be added after Thursday, January 10, 2019. Online registration ends on Friday, January 25, 2019. Cancellations received by 5 PM EST on Friday, January 25, 2019 will be refunded less a $50 processing fee (processing fee only applies to payments made originally with a credit card). Cancellations received after January 25, 2019 and No-Shows will NOT receive refunds.
To register as Press/Media please contact Maria Benson, NASS Communications Director at mbenson@sso.org. Media guidelines will be sent to those who register.
Hotel Reservations:
Fairmont Georgetown
2401 M Street, NW
Washington, DC 20037
202-429-2400 (mention NASS Winter Conference when booking)
The NASS rate at the Fairmont Georgetown is $181 per night, plus 14.5% tax. Rate is guaranteed through January 10, 2019, or until the room block sells out. Attendees are responsible for making their own hotel/travel arrangements. To make reservations by phone, call 202-429-2400 and mention NASS Winter conference to receive the discounted rate. Any cancellations, no-shows or early departures without 48-hours advance notice will result in the forfeiture of one night deposit.
Transportation:
The Fairmont Georgetown is approx. 5 miles from Reagan National Airport (DCA). Please arrange your own ground transportation.

Taxi - To/from the airport is approx. $25 one way.
Uber/Lyft - Both are available at Reagan National Airport. Rates vary.
Parking - Valet parking at the hotel overnight is $56 daily.
Metro - From Reagan National Airport (DCA) take the Blue Line towards Largo Town Center. Exit the Metro at the Foggy Bottom-GWU Station. After exiting, walk towards 24th St. NW. Turn right onto 24th St. NW and walk approximately ½ mile. The Fairmont Georgetown will be on the left.
Exhibitors:
Exhibit space is SOLD-OUT for this event.

Exhibit tables will be located in the Imperial Foyer at the Fairmont Georgetown. NASS will provide approx. 8'x10' space with skirted 6' table and two chairs. Exhibitors are responsible for ordering their own electricity. Wireless Internet access will be available for use in the meeting space. Space is limited to 20 exhibitors and will be assigned on a first-come, first-served basis in January. Please contact Jay Sachs, PSAV (jbsachs@PSAV.COM or 614-570-5948) to order electricity. Click here for exhibitor guide and shipping information.
Event Agenda:
Agenda is subject to change. Committee meetings are open to all attendees, unless otherwise noted. Conference dress is business attire. Valid conference ID badge is required for entry to ALL meetings & events. State government NASS members may attend NASED meetings free of charge.
Thursday - Executive Board Meeting
Executive Board Meeting & Reception
Dumbarton Room (3rd Fl.)
Election Infrastructure Subsector Government Coordinating Council (EIS-GCC) Meeting
Ballroom I
Registration
Imperial Foyer
Election Infrastructure Joint GCC-SCC Meeting
Ballroom I
Expo/Demo Set-Up
Imperial Foyer
New Member Orientation & Reception with NASS Executive Board
Roosevelt Room
Registration
Imperial Foyer
Breakfast with Presentation & Discussion: Insights from Local Election Officials
Colonnade
Presentation and discussion featuring previews from a forthcoming Democracy Fund 2018 Local Election Official survey report and expert reaction. Several key areas will be highlighted including: perspectives on voter engagement, attitudes towards election reforms, and the evolution of their role over time. 
Moderated By:  Ms. Tammy Patrick, Senior Advisor for the Elections Program, Democracy Fund
General Session: Election Reform in the 116th Congress - Legislative Staff Panel
Kennedy Ballroom
Moderated By: Ms. Leslie Reynolds, Executive Director, NASS
Ms. Elizabeth Hira, Majority Elections Counsel, House Administration Committee

Ms. Kimberly Betz, Minority General Counsel, House Administration Committee 

Mr. Raymond O'Mara, Legislative Director and Deputy Chief of Staff, Office of Rep. Sarbanes (invited) 

Ms. Jackie Barber, Majority Chief Counsel, Senate Rules Committee

Mr. Jacob Barton, Professional Staff, Senate Select Intelligence Committee

Ms. Lindsey Kerr, Democratic Chief Counsel, Senate Rules Committee 
Morning Break
Imperial Foyer
Corporate Affiliate Expo Showcase
Imperial Foyer
Lunch: The National Archives Foundation "Rightfully Her's" Women's Suffrage Initiative 
Colonnade
Mr. Jim Doumas, Deputy Executive Director, the National Archives Foundation 

Ms. Mattie Gainer, Programs & Communications Manager, the National Archives Foundation 

Ms. Rachel Colombana, Director of Corporate & Institutional Giving, the National Archives Foundation
Elections Committee
Kennedy Ballroom
Committee Business

2019 State Legislative Trends for Election Reform – What We're Seeing, What We Expect
Ms. Wendy Underhill, Director, Elections and Redistricting, National Conference of State Legislatures (NCSL)

Meet the Commissioners of the US Election Assistance Commission (EAC) – Plans and Resources for 2019
Hon. Thomas Hicks, Chairman, US Election Assistance Commission
Hon. Benjamin Hovland, Commissioner, US Election Assistance Commission
Hon. Donald L. Palmer, Commissioner, US Election Assistance Commission
Afternoon Break
Imperial Foyer
Cybersecurity Committee
Kennedy Ballroom
Cyber Safety for the Modern Secretary of State Office: The NIST Cybersecurity Framework
Mr. Geoff Hale, Cybersecurity Strategy and Integration Program Manager, US Department of Homeland Security

The Perspective of a Cybersecurity Expert
Mr. Beau Woods, Cyber Safety Innovation Fellow, Scowcroft Center for Strategy and Security, The Atlantic Council

Cyber Work Force Prospects – Recently Released Active Duty Military Cyber/Intel Veterans
Mr. Coy Coley, MPM, former DOD Deputy Branch Chief (US Army Vet.)
Reception at the Embassy of New Zealand
37 Observatory Cir NW, Washington, DC 20008
Transportation Provided | Advance Sign-up & Conference Badge Required
Registration
Imperial Foyer
CLOSED SESSION - Communications Training
Ballroom I
Ms. Tracey Madigan, Director, 15 Minutes Group
Morning Break
Imperial Foyer
CLOSED SESSION - Business Services Committee
Kennedy Ballroom
Update from International Association of Commercial Administrators (IACA) – Issues and Topics for May 2019 Conference in New Orleans
Ms. Carla Bonaventure, IACA President, Commercial Administrator, Louisiana Secretary of State's Office

Beneficial Ownership is Back – Treasury, House and Senate Proposals
Mr. Young Lee, Senior Policy Advisor, Office of Terrorist Financing and Financial Crimes (TFFC), Department of Treasury
Mr. Ben Harney, Counsel, Office of Rep. Carolyn Maloney (D-NY)
Mr. Jared Roscoe, Senior Banking Counsel, Office of Sen. Mark Warner (D-VA)

Business ID Theft – Trends, State Legislation and State Agency Cooperation
Ms. Terri Steenblock, Compliance Manager, Federation of Tax Administrators

Committee Discussion: Common Scams, new GTLDs, Potential Applications for Blockchain
NASS Awards Luncheon Featuring the Presentation of the Margaret Chase Smith American Democracy Award to Hon. Dan Evans, Former Governor of Washington & Hon. Ralph Munro, Former Washington Secretary of State
Colonnade
CLOSED SESSION - International Relations Committee
Kennedy Ballroom
Committee Business:
Consideration of TECRO proposal to host 2019 NASS delegation to Taiwan
CLOSED SESSION - Communications Staff Roundtable
Roosevelt
Social Media Tools and 2018 Election Information 
Ms. Eva Guidarini, U.S. Politics & Government Outreach Associate, Facebook
Mr. Mike Hogan, Product Manager, Facebook
Mr. Kevin Kane, Public Policy Manager, Twitter 
Mr. Mike Ward, VP Voter Engagement, Democracy Works

Belfer Center Update
Ms. Siobhan Gorman, Partner, Brunswick Group
Mr. Jordan D'Amato, Executive Director, Defending Digital Democracy Project
Ms. Mari Dugas, Project Coordinator, Defending Digital Democracy Project

Secretary of State Communications Discussion
Afternoon Break
Imperial Foyer
Workshop: Proper Greetings and Other Protocol Tips for International Delegations
Ballroom I
Mr. Lawrence Dunham, Former Assistant Chief of Protocol, U.S. State Department 
Workshop: 2018 in Review – Looking Back and Moving Forward
Kennedy Ballroom

Moderated By: Mr. David Becker, Executive Director and Founder, Center for Election Innovation & Research
Public Information and Voter Registration Databases: New laws, New limitations or More Access
Hon. Nellie Gorbea, Secretary of State, Rhode Island
Mr. Mark Rotenberg, President and Executive Director, Electronic Privacy Information Center (EPIC)

Signature Verification and Processing Absentee Ballots: Methods, Postmarks, Processing and Tabulating Timetables
Hon. Kim Wyman, Secretary of State, Washington
Ms. Amber McReynolds, Executive Director, National Vote at Home Institute
Workshop: Election Security 101 – New Secretaries and Election Staff Overview
Ballroom I
Moderated By: Mr. Matt Masterson, Senior Cybersecurity Advisor, US Department of Homeland Security
Overview of Resources and the Election Security Work Done to Date by Election Officials Around the Country 
Learn about resources from NASS, DHS, the Elections Infrastructure Government Coordinating Council (EIS-GCC) and the Sector Coordinating Council (SCC), the Elections Infrastructure Information Sharing and Analysis Center (EI-ISAC), Harvard's Belfer Center and much more.
Corporate Affiliate/ Secretaries Only Reception
Colonnade
Securities Committee
Longworth
Preemption Provisions in Proposed Federal Legislation

Financial Technology Issues

Data Security and Privacy Issues

Multi-jurisdictional Enforcement Actions

Fiduciary Standard

NASS Recognition of NASAA on their 100th Anniversary (1919-2019)
Expo/Demo Tear Down
Imperial Foyer
CLOSED SESSION - Secretaries-Only Session
Ballroom I
CLOSED SESSION - SOS Staff-Only Session
Roosevelt
Morning Break
Imperial Foyer
Business Meeting
Kennedy Ballroom
Members will vote on business items adopted by NASS committees.
Event Sponsors:
Adams Level
Jefferson Level