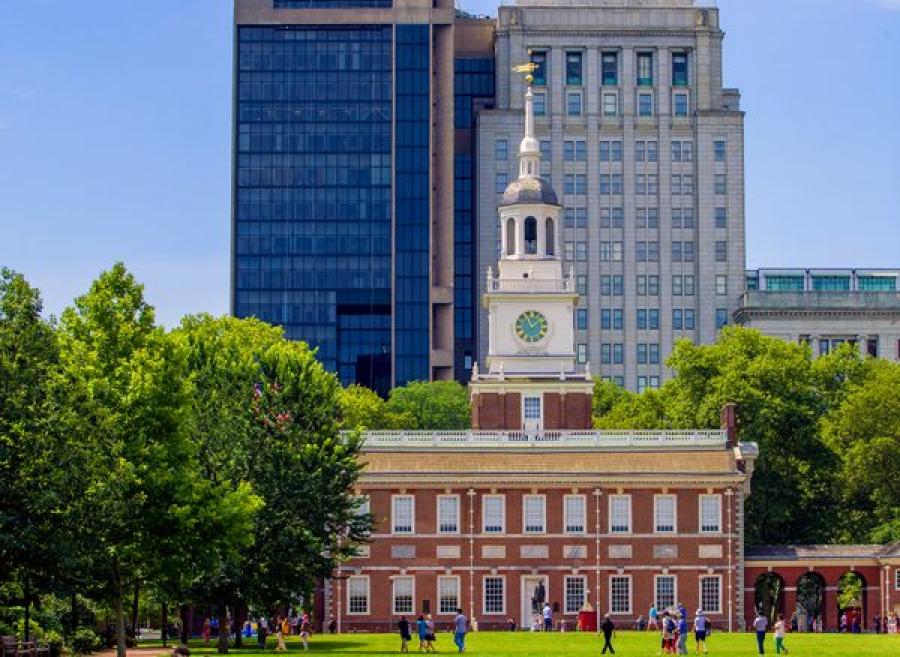 When:
Jul 13 - Jul 16
Where:
Philadelphia, PA
Facility:
Registration:
Register Now for the 2018 NASS Summer Conference!

Early Registration Rates -
SOS/Lieutenant Governor/Emeritus Member $500
Staff/Govt./Non-profit $500
Govt. ACR/NPA $500
Corporate Affiliate $500
Corporate Non-member $1000
Guest/Spouse $350 / Child (ages 4-18) $150

A late registration fee of $100 per person will be added after Thursday, June 14, 2018. Online registration for this event closes July 3, 2018. Cancellations received by July 2, 2018 (5 PM EDT) will be refunded, less a $50 processing fee (processing fee only applies to initial payments that were made with a credit card). Cancellations received after 5 PM EDT on July 2, 2018 and No-Shows will NOT receive refunds. 

To register as Press/Media please contact Maria Benson, NASS Communications Director at mbenson@sso.org. Media guidelines will be sent to those who register.
Family Activities:
Family Activities: As a part of your spouse/guest or child registration you can sign up to receive a Philadelphia City Pass (no additional charge). The City Pass will allow you to visit up to THREE destinations out of a list of TWELVE during your stay in Philadelphia. Go to all THREE attractions in one day or spread them out over your stay. We'll give you your City Pass when you check-in at the registration desk, when you sign up in advance during registration.  

Discover Philadelphia
Hotel Reservations:
Loews Philadelphia Hotel
1200 Market Street
Philadelphia, PA 19107
The NASS rate at the Loews Philadelphia is $202 per night, plus 16.25% tax. Rate is guaranteed through June 14, 2018, or until the room block sells out. Attendees are responsible for making their own hotel/travel arrangements. To make reservations by phone, call 888-575-6397 and mention the NASS conference to receive the discounted rate. Any cancellations, no-shows or early departures without 24-hours advance notice will result in the forfeiture of one night deposit.
Transportation:
The Loews Philadelphia is approx. 12 miles from Philadelphia International Airport (PHL). Taxi ride to/from the airport is approx. $30 one way. Uber and Lyft are also available at the Philadelphia International Airport. There is also an Amtrak (PHL) train station that is 1 mile from the Loews located at 2955 Market Street, Philadelphia, PA 19104. Valet parking at the hotel is $49/daily. Please arrange your own ground transportation.
Exhibitors:
Exhibitor tables will be located in the Commonwealth Foyer, providing continuous conference traffic adjacent to the meeting space. NASS will provide 6' table with tablecloth (no skirting) and two chairs. Booth space will be assigned after June 14, 2018. Space is limited to 20 exhibitors and will be assigned on a first-come, first-served basis.
Wireless Internet access will be available for use in the meeting space. Electricity and other AV equipment must be ordered directly with PSAV. Contact Thomas Magette at 215-231-7348 or tmagette@psav.com. Click here for PSAV order form.
Event Agenda:
Agenda is subject to change. Committee meetings are open to all attendees, unless otherwise noted. Conference dress is business casual, unless noted otherwise. Valid conference ID badge is required for entry to ALL meetings & events. Government NASS members may attend NASED meetings free of charge.
THURSDAY - NASS Executive Board
Nominations & Credentials Meeting
Franklin Room - 3rd Floor
Executive Board Meeting & Reception
Franklin Room - 3rd Floor
Election Infrastructure Subsector Government Coordinating Council (EIS-GCC) Meeting
Congress BC
Conference Registration
Millennium Foyer
Expo/Demo Set-up
Millennium Foyer
Dessert Reception
Barnes Museum
2025 Benjamin Franklin Pkwy, Philadelphia, PA
Note: Business Attire
Conference Registration
Millennium Foyer
Breakfast
Millennium Hall
Voter Participation Committee
Co-Chairs: Hon. Alison Lundergan Grimes, KY & Hon. Dennis Richardson, OR
Commonwealth CD
YMCA Youth Secretaries of State Program
Mr. Derek Summerville, Shared Services Resource Coordinator, YMCA Youth and Government Programs
Expo/Demo
Millennium Foyer
Elections Committee
Co-Chairs: Hon. R. Kyle Ardoin, LA & Hon. Maggie Toulouse Oliver, NM
Commonwealth CD
Update Federal Legislation - Secure Elections Act
Mr. Ben Hovland, Senior Counsel, Senate Rules Committee
Mr. Jacob Barton, Staff, Senate Select Intelligence Committee

Government Coordinating Council and Sector Coordinating Council Updates
Hon. Connie Lawson, Secretary of State, Indiana
Ms. Kay Stimson, Chair, EIS-SCC

US Supreme Court Cases
Minnesota Voters Alliance v. Mansky
Hon. Steve Simon, Secretary of State, Minnesota

Husted v. A. Philip Randolph Institute
Mr. Matt Damschroder, Assistant Secretary of State, Ohio

International Observers and Critical Infrastructure
Mr. Richard Lappin, Deputy Head of Election Department, OSCE/ODIHR
Mr. Radivoje Grujić, Election Adviser, OSCE/ODIHR
Morning Break
Millennium Foyer
Workshop: Election Cybersecurity Shared Practices
Commonwealth B

Moderator: Ms. Sue Friedberg, Co-chair of Cybersecurity & Data Protection Group, Buchanan, Ingersoll & Rooney
Working with the National Guard to Secure Elections
Hon. Kim Wyman, Secretary of State, Washington

MN Cybersecurity Efforts and Initiatives and Coordination with Locals
Hon. Steve Simon, Secretary of State, Minnesota
Workshop: Media Training for Secretaries & State Staff
Commonwealth B
Ms. Tracey Madigan, Director, 15 Minutes Group
Workshop: Ways to Work with the Small Business Administration
Commonwealth A

Moderator: Mr. Gary Zimmerman, Chief of Staff, Colorado Secretary of State
Ms. Patricia Gibson, Associate Administrator for Communications and Public Liaison, SBA

Ms. Michelle Christian, Regional Administrator for the Mid-Atlantic Region, SBA
IDEAS: Innovations & Solutions from the States
Commonwealth B
 
Afternoon Break
Millennium Foyer
Securities Committee
Co-Chairs: Hon. William Galvin, MA & Hon. Delbert Hosemann Jr, MS
Jefferson Boardroom - 3rd Floor
State Heritage Committee
Co-Chairs: Hon. Jeffrey Bullock, DE & Hon. Jay Ashcroft, MO
Commonwealth CD
Rightfully Hers Initiative Celebrating the 100th Anniversary of Women's Right to Vote
Mr. Patrick Madden, Executive Director, National Archives Foundation
Communications Staff Roundtable Discussion
Commonwealth A
electionLine Update
Ms. Tammy Patrick, Senior Advisor, Elections, Democracy Fund
Reception for SOS/Corporate Affiliates/Sponsors
Comcast Headquarters - Ralph's Cafe 43rd Fl.
1701 John F Kennedy Blvd, Philadelphia, PA
Please Note - Children under 18 are not permitted to attend
Conference Registration
Millennium Foyer
Breakfast
Millennium Hall
Expo/Demo
Millennium Foyer
Workshop: Business Names and Trademarks
Commonwealth A

Moderator: Hon. Elaine Marshall, Secretary of State, North Carolina
International Trademark Association
Workshop: Election Cybersecurity
Commonwealth B
Morning Break
Millennium Foyer
Business Services Committee
Co-Chairs: Hon. Alex Padilla, CA & Hon. Mac Warner, WV
Commonwealth CD
What's Up at the International Association of Commercial Administrators (IACA)
Ms. Carla Bonaventure, Commercial Administrator, Louisiana & IACA President-elect

Federal Legislative/ Federal Activity
Ms. Leslie Reynolds, Executive Director, NASS

Regulatory Snapshots Using Administrative Codes – Are You a Business-Friendly State?
Hon. Paul Pate, Secretary of State, Iowa
Dr. James Broughel, Research Fellow, State and Local Policy Project, The Mercatus Center at George Mason University

Business ID Theft – Partnering with Other State Agencies to Combat Fraud
Ms. Terri Steenblock, Manager, Compliance, Federation of Tax Administrators
Workshop: Post-Election Audits Shared Practices
Commonwealth A

Moderated By - Ms. Jennifer Morrell, Lead, Election Validation Project at Democracy Fund
Hon. Nellie Gorbea, Secretary of State, Rhode Island (invited)

Hon. Connie Lawson, Secretary of State, Indiana
Lunch with IDEAS Award Presentation
Millennium Hall
International Relations Committee
Co-Chairs: Hon. Lauren Vaughan, DC & Hon. John Wobensmith, MD
Commonwealth CD
Awards Committee
Co-Chairs: Hon. Bill Gardner, NH & Hon. Al Jaeger, ND
Jefferson Room - 3rd Floor
Workshop: Election Administration Workforce of the Future
Commonwealth A
 
Dr. Kathleen Hale, Professor, Director, Graduate Program in Election Administration, Auburn University

Mr. Tyler St. Clair, Masters of Public Administration – Election Administration, Auburn University
 
Ms. Lindsey Forson, PhD Candidate, Election Administration, Auburn University
Afternoon Break - Join Us to Celebrate NPA's 20th Anniversary
Millennium Foyer
Workshop: Election Innovations Shared Practices
Commonwealth A

Moderator: Hon. Jim Condos, Secretary of State, Vermont
Ranked Choice Voting for Maine Statewide Elections
Hon. Matt Dunlap, Secretary of State, Maine

Pennsylvania's Election Modernization Plan
Hon. Robert Torres, Acting Secretary of State, Pennsylvania

Blockchain-enable Voting for West Virginia Military
Mr. Donald Kersey, Director & Deputy Legal Counsel, Elections Division, West Virginia Secretary of State
Breakfast
Millennium Hall
CLOSED SESSION - Secretaries-Only
Commonwealth A
CLOSED SESSION - SOS Staff-Only
Commonwealth B
Expo/Demo Tear Down
Millennium Foyer
Business Meeting
Commonwealth CD
Members will vote on business items adopted by NASS committees.
Lunch with NASS Leadership Ceremony Featuring Induction of 2018-2019 National Officers
Millennium Hall
Event Sponsors:
Founding Father Level
Constitution Level
Independence Hall Level
Liberty Bell Level
Patriot Level
Freedom Level