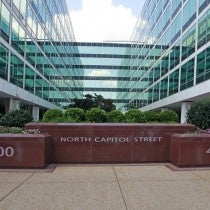 When:
Apr 23
Where:
Washington, DC
Facility:
The agenda for this one day meeting will include cybersecurity, threat mitigation, data sharing, emerging issues and resource allocation.
Registration:
This meeting is by invitation-only for SOS government IT staff (maximum of 30 participants). The registration fee is $200 per NASS member office participant. The event will run from 8 AM to 3:30 PM on April 23, 2018 and will include breakfast, lunch and breaks. For more information, please contact Stacy Dodd, NASS Events Manager at sdodd@sso.org. 
Hotel Reservations:
Liaison Capitol Hill Hotel
415 New Jersey Avenue, NW
Washington, DC 20001
The NASS group rate is $253 per night plus 14.5% room tax and $12.95 per night hotel fee. Click here to make your reservations online! Or call 888-513-7445 and mention group code 04NASS when booking by phone. NASS ROOM RATE DEADLINE IS MONDAY, MARCH 26, 2018! Reservations must be guaranteed with a credit card. Room reservations must be cancelled 48 hours prior to arrival to avoid a penalty of one night stay plus taxes.
Transportation:
The meeting will take place at the Hall of States building (444 N. Capitol St. NW, Room 233/235, Washington, DC 20001) located one block from the hotel. The Liaison Hotel is two blocks from Union Station on Metro's Red Line. Attendees are responsible for making their own hotel/travel arrangements.